Green Megastructures: Tower of Power by NL Architects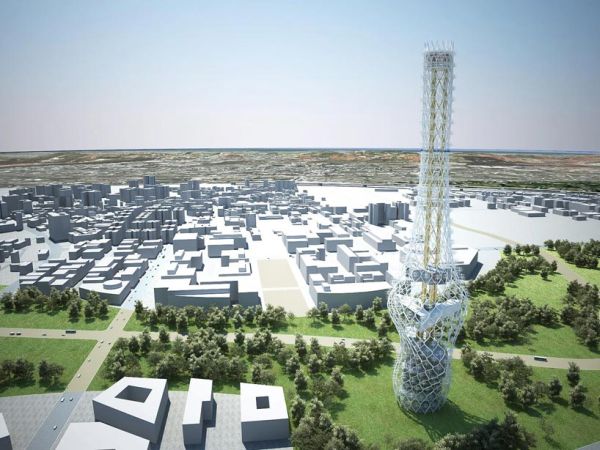 The mega structure
The Dutch firms NL Architects have designed Tower of Power as one of their entries in the Taiwan Tower Competition. NL Architects integrate sustainable technologies into the structure of the tower in its Tower of Power for the competition. The high-rise structure is a combination of a windmill and an observation tower. The design of Tower of Power aims at altering future wind energy generator structures and changes the concept of tourist towers. The tower will give an innovative, aesthetic appeal to new structures that generate renewable energy sources. With the Tower of Power in place, the tourists will have amazing views to marvel at in its distinctively shaped lobbies, office, parking lots, museums, conference centers, and the observatory tower.
Tower of Power itself is a segmented floor plan wrapped in structural net that supports as well as generates sustainable energy. The structure of the windmill is coiled around the main tower where all the facilities have been put in place in various shapes and sizes. Each of the facilities in the tower – lobby, offices, museum, parking, conference centers, and observatory – has a distinctive shape.
A new style of windmill occupies the spaces in between the intricate pattern of various facilities in Tower of Power. The windmill is both silent and strong and produces energy from wind that comes from simply any direction. It does not require wind from a particular direction to run its eddies.
What makes it mega?
The Tower of Power from Amsterdam based NL Architects is a 300 meters high structure that aims to become one of the model green buildings in the new age of renewable energy resources. With an alternative, green generation of power in an aesthetically beautiful structure, the Tower of Power is bound to change trends in the industry of green energy production.
There are at least 200 rotors producing 8 MW of power, thus giving the tower realistic colors to the ambition of being an aesthetic green building. The Tower of Power also serves as a telecommunication base and as a sightseeing high-rise structure.
The NL Architect's structure is a power plant that looks nothing like the windmills of the past. It effectively and wonderfully transforms a power plant into a beautiful object that can hold attention of the beholder.
NL Architect has proposed the design of Tower of Power as one its entries to the Taiwan Tower Competition this year. The structure of Tower of Power built in Taiwan aspires to weave together beauty and green energy. The Tower of Power, that is wrapped in a beautiful and scenic structure, has the capacity to generate energy.
| | |
| --- | --- |
| Estimated cost | Unrevealed |
| Purpose | Generate wind energy and attract tourists for beauty |
| Surface area | 53,000 square meters |
| Construction time | Unknown |
Architect: NL Architects
Place: Taiwan
Purpose: Mixed-use in both residential and commercial energy usages and an observation tower.
Eco credentials
1. Produces green energy
The Tower of Power aims at producing around 8 MW of power from wind energy. It will produce energy from its eddy wind turbines. These turbines use flower like structures for the generation of power from wind energy. The wind energy thus produced in the Tower of Power can be used for various purposes of utilization in residential as well as commercial fields.
2. Acquires less space
The Tower of Power is a high-rise structure that acquires less territorial space and offers a scenic beauty for the eyes apart from its energy production.
In a high-rise structure like the Tower of Power, the area on ground is extremely less but this does not restrict the vastness of its usage. It will produce around 8 MW of energy apart from functioning as a beautiful observation tower.
3. Tourist attraction without any stress on energy resources
The tourist attraction that Tower of Power aims to become produces green and eco-friendly energy instead of utilizing exiting resources. The Tower of Power will also serve as an observation tower. NL Architect's first entry to the Taiwanese tower competition, the Tower of Power is a beautiful carved structure that is bound to change the kind of crowd that the country attracts till date. Tower of Power will soon be one of main monuments featuring on top of the must-see lists of tourism agencies in Taiwan.