Green giving: Show that you care for the environment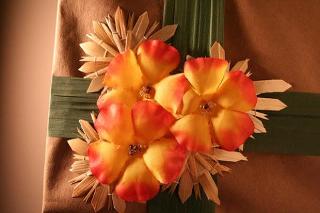 When you have spent a considerable time to choose the right gift, you might as well pay enough attention to the way you package it. Dump expensive gift wrappers or plastic carry bags and show that you care about the environment as much as you care about your loved ones by using gift wraps that are eco-friendly.
Here are your options:
Fabric wraps: You get odd length fabrics at throw away prices, collect these, get creative and make your own gift bags or wraps. Stitch sequins, beads or laces to give it a personal touch. If you don't know sewing, fabric glues are a great option.
Collaged Paper: Bring out your old glossy calendars, magazines and posters, create a collage and you are ready with a unique gift wrap.
Recycled boxes: Don't dump your grocery cartons, shoe boxes or any other cardboard boxes. Glue them with recycled paper, let your kids take over and create their own art. Snip your discarded satin garments and you have a box of ribbons to tie up your gifts artfully.
Get natural: Sea shells, fried leaves and branches, colored stones all make up for great embellishments.
Well, there is no end to your imagination. Let it run wild and you will come up with alternatives that you'll love to give your loved ones.

Lazy to make your own gift wraps? No worries, check out sites where you can buy eco-friendly gift wraps.