Google's first website on eco-tourism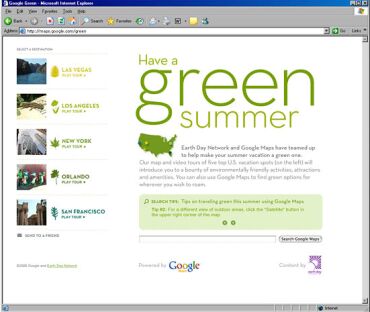 Google is always on its toes with innovations. It has launched its first map-based mashup site. It has all information to get you on wheels for a earth-friendly tour. The website contains information about earth-friendly locations in five destinations of the U.S.'s top travel spots.
Luanne Calvert, creative director at Google said,

This is important to us… One of the big objectives for Google as a corporation is to promote environmental protection.
The five green tourist destinations are San Francisco, Los Angeles, Las Vegas, New York and Orlando, Fla. Just visit the site, at maps.google.com/green. Hetre you will get information spots, including video tours. Inn addition, it also provides tips on how to be an eco-tourist during the summer using Google Maps.
More listings, cities and countries will be enlisted in the future.
Calvert said,

The goal is to have everyone using Google Maps to get around this summer… The motto is Green not Grim…green can be fun.
She further said,

By green Google means things that are earth friendly… That includes restaurants that are about sustainable living and a car service in New York that only uses (gas-electric hybrid) Prius vehicles.
Via: NEWS.com