GM's new 'Biodiesel-And-Battery-Powered' Chevrolet Volt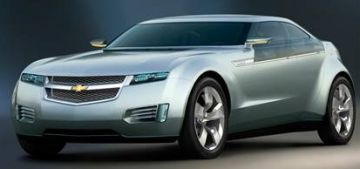 General Motors seems to be redefining the electric vehicles. It will soon launch its unique sedan, which is predominantly fuel-efficient. Premiering Sunday at the North American International Auto Show in Detroit, the new Chevrolet Volt spins up the hybrid-car world.
The Volt is capable of running 'exclusively' on the power of battery. But, when the batteries run low, a gas-fueled engine onboard runs the motor, recharging the batteries at the same time.
The 3-cylinder generator of the new sedan uses liquid fuel in the form of — gasoline, ethanol or diesel. Thus, it extends the driving range. The engine is capable of recharging the batteries in approximately 30 minutes, which can help it run 600 miles or more before needing further refueling or recharging, the company claims.
And, if you want to reduce fuel consumption, plug the Volt into a standard 110-volt electrical outlet and recharge the batteries in approximately six hours, and move on.