Eco Chronicle: GM Street Car Conspiracy was paranoid nonsense!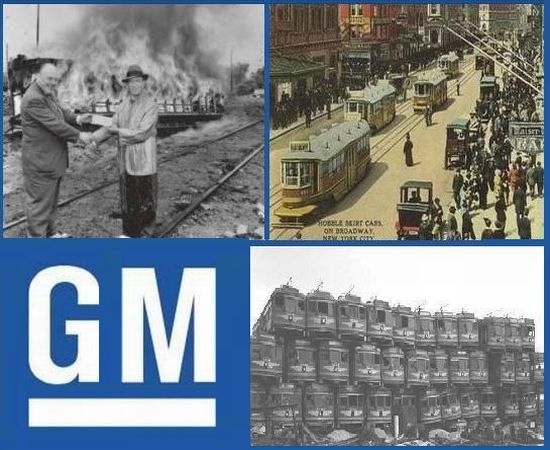 Way back in 1930s and '40s, GM dismantled or as chance would have it contributed to the sad downfall of the thriving streetcar systems throughout the United States. One could so easily relate it to despoiled rail transit and promoted auto sales. Some, being more vocal, asserted that the great US of A was ditched and made to succumb to ambition while others lamented its impact on the environment. Well, much have been said and argued over, still reality seems most unwilling to unfold itself. Background: Two separate trolley systems, i.e. Pacific Electric "Red Cars" and LA Railway "Yellow Cars" were the lifelines, connecting Detroit, New York City, Oakland, Philadelphia, Phoenix, St. Louis, Salt Lake City, Tulsa, Baltimore, Minneapolis and Los Angeles. As reports say, General Motors, Firestone and Standard Oil formed a company called the National City Lines, which used buses from General Motors, tires from Firestone and fuel from the Standard Oil company. Thus, 100 electric surface-traction systems in 45 cities literally handicapped once popular rail transit. The Conspiracy Theory:

General Motors was a sovereign economic state whose common control of auto, truck, bus and locomotive production was a major factor in the displacement of rail and bus transportation with cars and trucks.
Who doesn't know Bradford C. Snell, the founder of the GM Conspiracy Theory? He devised the whole plot so unreservedly that there was hardly any justification left to dribble over. He accused GM for being instrumental in turning off the electricity. A cleverly crafted argument indeed! Not to miss, he indicted GM to be the Nazis' ally in hindering research into petroleum. That's not all; he went on to report that Adolf Hitler awarded James D. Mooney, GM's CEO for overseas operations, with the Order of the German Eagle. So, the raised apprehensions were noticeable. These collective rejoinders allowed debaters to gratify their whims in scandalizing this issue, almost amply and incessantly. Certain queries remained unanswered, such as how prudent was it to replace electric trams with inept gas and diesel buses, cars and trucks? It led to a debacle that was nothing more than an uncalled-for furor. A fluky take of events lead to an auto conspiracy.
Secreted Reality: In LA, Pave. Secondly, wartime gasoline rationing in 1920 magnified itself in overfilling of streetcars. Masses were forced to walk cific Electric used to line the city streets and these were slow and inconvenient when compared to autos and couldn't surviout of the traditional mode. Also, long before GM had any involvement in New York City, NY Railways had renounced 46 miles of tracks and commoners had already started realizing the superiority of GM buses. So, I won't label GM and allies as culprits since a twisted chronicle forbids me to do so. None could ever deny the fact that individual choice was somewhere responsible for the disaster. People preferred a cheaper mode of transport, i.e. GM buses with adjustable routes. Furor: Completely Uncalled-for Though replacing them with gas-guzzling, comparatively less eco-friendly buses was regrettable, still that was the need of the hour. GM inadvertently fell into the scheme of things and earned bad repute for that. No tracks or wires were what people preferred. Now, if you believe GM to be the first company sensing the apparent, I definitely second you. Nothing is wrong in that since at times, all of us tend to behave slightly opportunistic. So, isn't it a paranoid nonsense to believe in such an engineered, baseless theory?