Glidehouse: A prefabricated house with expansive space and sustainable features
Prefabricated homes have always insinuated the 'factory made' scope of housing, which in it self entails greater efficiency yet lesser overall cost of construction. Following along this convenient tradition of user related portability, California based Blu Homes undertook the project of new Glidehouse prefab on Vashon Island in Washington. The fascinating endeavor entailed the 'manufacturing' of the house in a factory, and its shipment to the designated island by means of only ferries.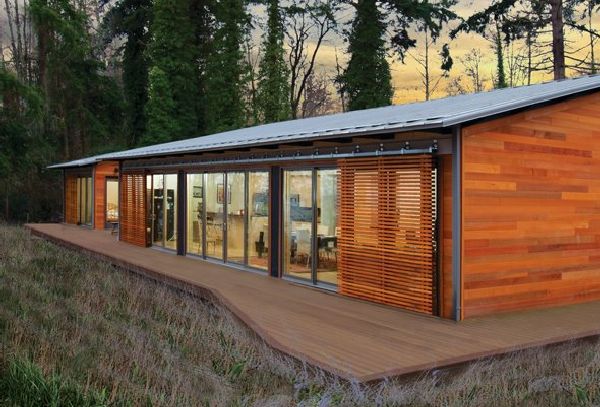 Structurally, the timber based pedestal is quite clear from our above image. This was used to fix the house to the ground, once its sections were assembled on the location. However, design wise, the building is still expansive enough, in spite of its prefabricated nature.
The interior zonal distribution of the Glidehouse is done in a comprehensive manner for optimized user comfort. The spatial distributions include two bedrooms, two bathrooms and separate area with both a bedroom and a bathroom. This extended area alludes to the flexible scope of space usage, as the pod can be utilized as a visiting room or even as an office.
However, beyond the volumetric denominations, it is the adroit sustainable attributes that have tickled our fancies. Featuring passive architectural attributes like gliding cedar shades and natural ventilation systems, the building is remarkably infused with a slew of other green components. These include radiant floor heating, Energy Star appliances, low-flow fixtures, locally forested flooring and Greenguard finishes. In fact, according to the architects, the dwelling is capable of exhibiting at least 50 percent more energy efficiency as compared to its prefab peers.
Finally, coming to the all important criterion of cost, the pricing of Glidehouse is kept in the range of $385,000, with an additional $105,000 for the aforementioned extendable pod. And, this pricing structure includes the factory, transportation as well as the overall assembling done by the company.
Via: JetsOnGreen