Garden creation to showcase London's iconic creation
Andy Sturgeon's creation for garden festival is scheduled to be showcased during this summer. This event will be held in London, near the South Bank and Bankside area of the state. Being busy in his creations, this creative inventor will install the Pommery Eyegarden, which is being referred as the pop-up garden in a London Eye capsule. His garden is simple with no jazz. It involves clean white square posts that form the building blocks of this great architecture. This garden is engulfed with peaceful colors of green and white planting shades. They are finished with innate tussock grass and Baltic parsley.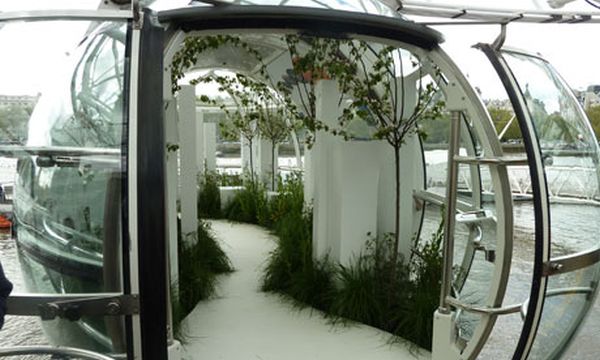 This contemporary creation involves plants planted in pots though a temporary but are spun to give a great look. The roof of the capsule is surrounded by the twisted branches of flowering quince trees along with curvy white paths which make this tiny area look spacious. The background sounds of birdsong to sirens through a soundtrack are played at various points of the capsule. This adds life to the calm and isolated areas of the capsule. These soundtrack devices are ground visible from the Eye adding that spice you might dream of.
Three more garden are scheduled to be launched in the coming months. These include a basement patch in the Old Vic Tunnels. This will be located below the Waterloo station. Next involves a plotted plants community garden at the Architecture Foundation. Third of this kind will be a miniature forestry at the Design Museum. Along with this a garden trail to soon to follow. Andy wants to create the highest garden that anyone would have seen in London before. This innovator wants to create an iconic landmark through his cityscapes.
Via: Guardian