Future Perfect – Prefabricated eco friendly houses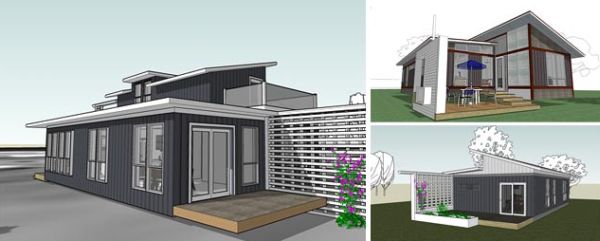 What's happening right now
Prefabricated or modular home construction is the "next big thing" in the field of environment friendly buildings. Gone are the days when prefab meant monotonous boxlike homes. With new thought being infused into this area of green buildings, designers and builders are collaborating to come up with prefab homes that are pleasing to the eye, super-utilitarian and comfortable, while remaining environment friendly as well. Prefab homes are unique also in that they allow modern design available to the home owner at lower cost, as it is cheaper to design and construct such homes than regular custom built houses.
Trends
1. Live Pod – A prefabricated dwelling that reacts and co-exists with nature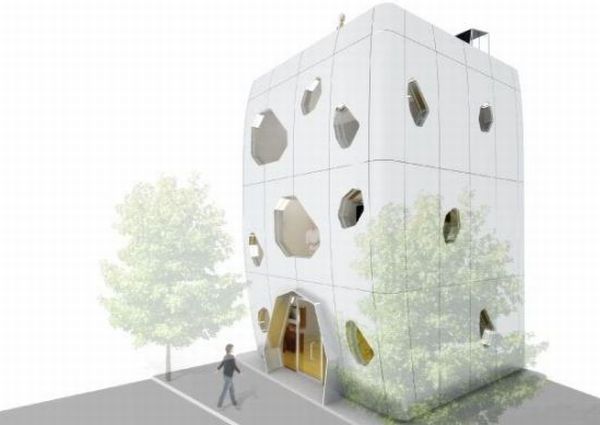 The Live Pod designed by MisoSoupDesign is a prefab living unit that organically interlaces with its environment. The pod can be "dismantled" and transported from the manufacturing unit to be assembled onsite. Some of the features incorporated in this unique idea are bamboo flooring, solar panels and rainwater harvesting for irrigation.
2. Ecofabulous' prefabricated small green home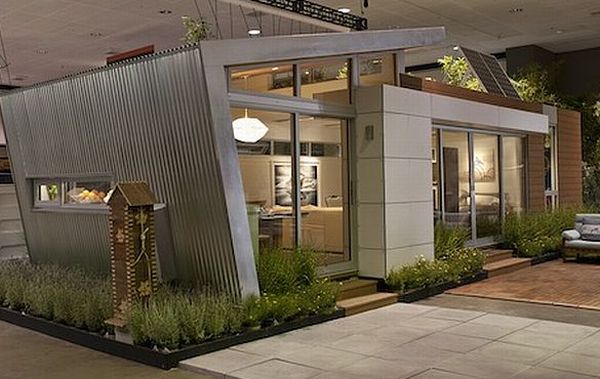 With thoughtful and generous use of recycled glass, recycled stainless steel, cork flooring, LED lighting, green appliances, water saving faucets, and solar panels, Zem Joaquin of EcoFabulous has designed this 550 square feet home along with Jonathan Davis of pieceHomes to combine comfort, design and eco friendliness. Three years into its existence, EcoFabulous continues to turn out amazingly unique and impressive green home designs
3. Modern Prefab Villa Design by Architect Daniel Libeskind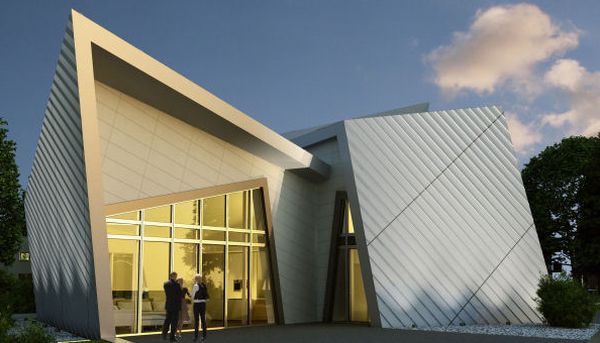 Architect Daniel Libeskind ensures that his contemporary villa design does not necessarily identify green with frugal. The Villa manages to include four bedrooms, sauna and jacuzzi, under floor heating and a fireplace room, without compromising on its carbon footprint. With his signature sharp edges and asymmetrical angles that are inspired by the geometry of crystals, these two-storied luxury villas are made mostly of wood (high carbon storage) and clad in zinc, with a solar thermal system and rain-water recycling system on the green terrace.
4. Sommerhaus Piu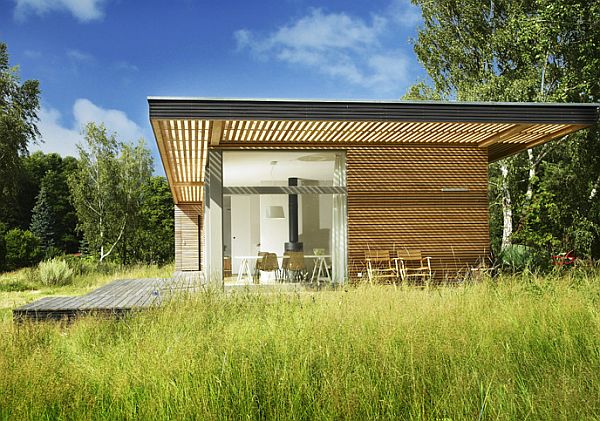 Patrick Frey and Björn Götte of Germany bring together the principles of natural light and free flowing space to create a simple yet elegant design masterpiece with The Sommerhaus Piu. Made of horizontal wood strips, the vacation house has a sloping roof with windows just below it to provide natural light and ventilation. With minimalist lines and a low carbon footprint, this naturalistic design is like a breath of fresh air in the jungle of urban oriented offerings.
The Concept
The concept of prefab homes is an old one. For a long time, they have been relegated to the category of cheap assembly line designs. It is only with the evolving need for innovative green home building solutions that the prefab concept has gained a new lease of life. The basic concept is that the home is made of modules that can be prefabricated or manufactured and then reassembled into a home wherever you want it. Add to this the principles of design, eco friendliness, cost and comfort, and you have the perfect modern home building solution that is actually kind to the planet.
The Advantages
Prefab reduces environmental damage through choice of material, improved production efficiency, reduced water usage, etc.
Prefab saves construction time owing to reduced dependence on variable factors like labor, materials, and weather.
Prefab costs much less to build than similar brick homes. Prefab costs less to live in due to improved light, heat and water usage efficiencies that can be built into the design and materials.
You can take your home with you if you have to relocate. Whether it be a change of job or unpleasant neighbors, relocation no longer means you have to leave your home behind.
The Impact
The planet is facing an environmental crisis that will need a multi-pronged attack. Prefab green homes are an essential part of that strategy. As the concept is picked up and implemented, and as design groups and builders collaborate to offer attractive options to prospective home owners, the impact will be felt through lowered energy consumption, newer and prettier designs, efficient use of natural resources, and an overall improved quality of life. It is up to the consumers now to pick up on this idea and make it the norm.