What's Happening Right Now
Different people have different opinions on what ails our planet most today, and, while we all have our own list of environmental evils that we would like to bid farewell to, plastic and fossil fuel must rank pretty high on most people's wish list. The reason for their toxicity is not just their impact as individual entities, but the widespread usage of these products and the damage they cause. While green energy sources are being actively pursued, plastic still remains an evil we just cannot seem to kick out. But, that may not be the case for too long now as a wonderful new green material called 'liquid Wood', has been discovered.
Liquid wood is created from lignin part of tree cellulose, which has been traditionally discarded as waste by paper industry. By merging lignin with natural polymers like wax and hemp, one can create liquid wood. The material is akin to plastic in both durability and finish and is obviously non toxic in nature.
Trends in Liquid Wood
1. Toyota MOB concept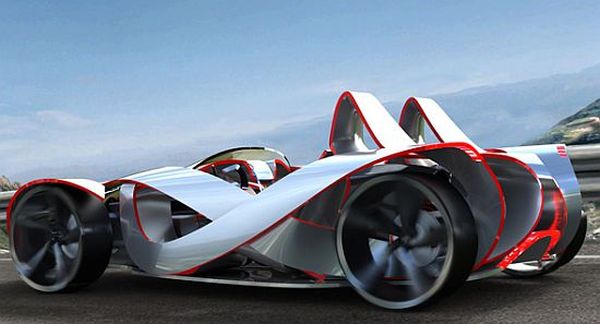 It is amazing how modern designers are in tune with cutting edge technology. Created as a concept design by Spanish designer Jorge Marti Vidal the Toyota MOB is an all electric car that is crafted completely from liquid wood. The potential of liquid wood as a building material for cars is already established and this stunning design shows how dazzling the final product could be. With bio plastic already in use for car manufacturing, replacing it with liquid wood seems a task not at all difficult.
2. Eco Pump with Liquid Wood heel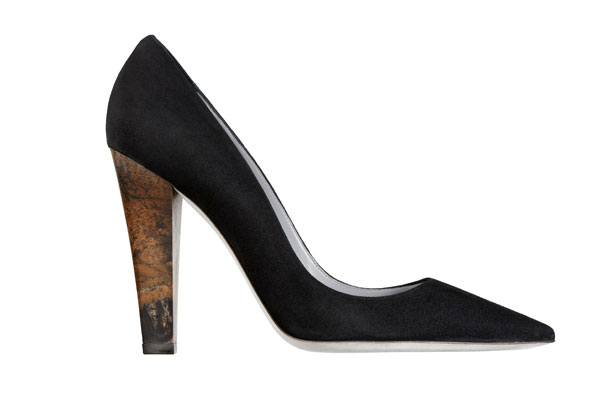 This is no concept design as it is already out in the market. Franco Russo, Creative Director of Sergio Rossi, has himself crafted the line of footwear that exclusively features a heel that has been created solely out of liquid wood and demonstrates the strength, dexterousness and workability that the material offers to designers. In fact, the whole shoe is completely biodegradable except for a little pin that attaches heel tip to the heel
3. Green Lantern from Romolo Stanco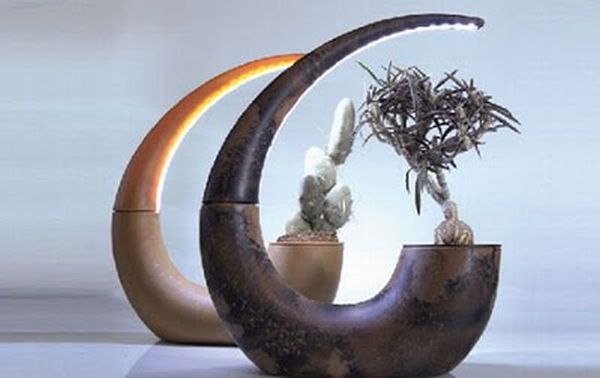 This might remind you of a giant pipe, maybe even an elephant tusk, but this beautifully crafted vase lamp combo has been fully crafted from liquid wood. The fact that it obviously doubles up as both a lamp and a vase is a wonderful surprise. But its green make along with sleek and ergonomic design once again demonstrate the capabilities of the material that will most likely replace plastic one day.
Advantages offered by Liquid Wood
There are many aspects in which liquid wood trumps over conventional plastic. To start off, it is non toxic, and once its purpose is served, it can be pretty much be burned away just like wood without releasing harmful gases. With growing crude oil prices and plastic being a by product of petroleum, the cost effectiveness of plastic is coming down fast and this is where liquid wood can start competing with the artificial polymer.
With the right amount of polishing for texture and appearance, liquid wood can replace both plastic and wood and in that sense reduce the impact on environment and maybe even bring down deforestation. Since lignin is a waste product of paper industry, no new trees need to be brought down to create liquid wood. Also the rich carbon content in it ensures high strength and durability.
Impact that liquid wood could create
Plastic is pretty much found all around us in everyday life and is turning out to be the biggest disposal problem that we have today. But, an organic replacement to that would create a substance that would naturally once again become a part of soil after being discarded. Take away the toxicity and the fact that paper industry does not really mind sharing lignin way too much and you have a material that with right technological advances, could very well solve our plastic problem.
Liquid wood may not be the permanent solution for plastic. A raw material obtained from trees at the end of the day should at some point be difficult to constantly acquire in large amounts. Despite all that, liquid wood is an alternative that has the ability to mold itself to millions of domestic and industrial needs and this has researchers and designers across the globe. It might now be only a matter of time before consumers feel the same way as well.