The contemporary social trend especially in urban areas alludes to the isolation of nuclear families from a definite communal fabric. And, in view of this societal inclination, more people take part in private activities like TV surfing, playing indoor games and other inter family exercises. Taking this adversely rigid segregation of urban communities into account, Dutch designer Marijn Beije has created the Free Floating catamaran suite. Envisaged as a 'dynamic' mini eco lodge for traversing outdoor parks, the conception aims to uphold the privacy of users, complimented by an all natural setting and green technology.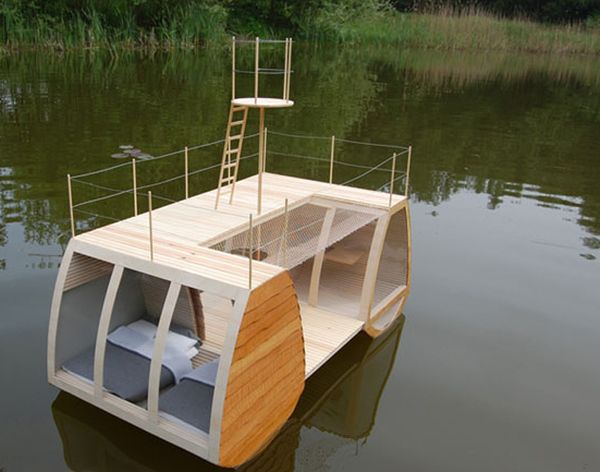 The project is the fruit of the collaboration between the designer and AP Kremer, a company specializing in sustainable materials and manufacturing processes. The end result is an elegantly crafted floating private retreat with classic timber and glass facades. In fact, the 'naturalistic' design insinuates a subtly bucolic bearing with minimalist attributes.
Spatially, the catamaran is divided into four different levels for viewing the nature. For living purposes, the main volume comprises of a bedroom with transparent glass walls on two sides. The room in itself consists of two foldable beds for improved flexibility of circulation. This zoning is adjacent to an on-board utility of a bathroom for user convenience.
Finally, the user can also move to the upper most deck for the ultimate viewing pleasure of the surrounding scenic beauty. This accessible deck is supported by a vertical pole, which can be practically used to fix a solar panel for clean power generation.
So, at the end of the day, is the Free Floating catamaran suite a worthy alternative to carefree household activities? We would certainly like to think so, especially due to its advantageous natural allure combined with elements of precious privacy.
Via: Tuvie