Flexible Solar panels rolled out by PowerFilm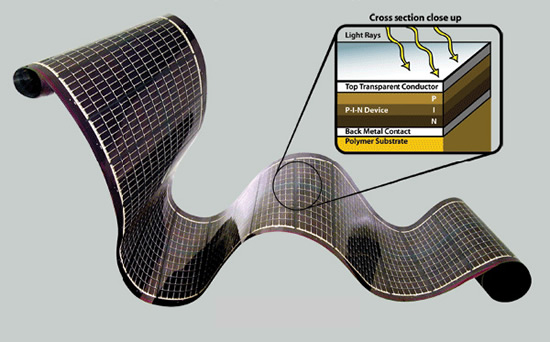 Harvesting green energy directly from solar rays using solar cells is increasingly emerging as a prime component of alternative energies. And raising the bar of convenience in optimizing it to be user friendly, PowerFilm is the first company to manufacture as well as sell flexible solar panels. Since flexible panels can be rolled up, it makes them easily portable and accessible. Via a roll-to-roll manufacturing process it is practical to roll out monolithically-integrated solar panels. Dr. Frank Jeffrey and Dr. Derrick Grimmer have invested 65 years of their expertise to give shape to company's objective to target the building integrated solar power market and to continue to supply products for selected portable and remote solar power applications.

Roll-to-roll manufacturing decreases material handling costs, printed interconnects enable automated connection of individual cells, and the production of flexible solar panels requires as little as 1% of the amount of silicon used in rigid crystalline panels. In addition, the sunlight absorber layer is cadmium free (environmentally friendly), as well as a commercially viable, low cost technology. A single13 inch wide solar roll can supply 2,400 feet of solar panels.
Such an eco-friendly and space saving energy solution will cater to the portable gadgets market and motivate eco or non-eco folks to embark on a solar revolution.
Via Trendir