Fish Green With Reclaimed Wood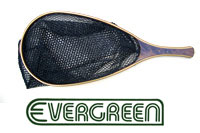 We hardly get to see anything on the sport of fishing! Here is EverGreen Nets to provide us with one such interesting product. It is not just another fishing net, but a eco-friendly one!
EverGreen Nets crafted this beautiful carved net from reclaimed wood — which includes cabinetry and furniture! So, your old, furniture in the basement can be transformed into a new fishing net. Just send it to EG and they will turn it into a functional (and beautiful) new piece of river swag!
Via: Groovy Green