First 'Zero Emission' polar science station in Antarctica unveiled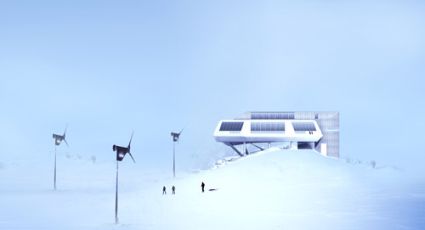 In an Attempt to avoid the catastrophe in future and for a better understanding of climate change and global warming, a Belgian-based International Polar Foundation on Wednesday unveiled first 'Zero Emission' polar science station in Antarctica named 'Princess Elizabeth'

This unique $16.3 million, 10 meters high and 22 meters wide, aerodynamically designed prefabricated station will allow scientists to study 4climate change in one of the world's most inhospitable environments with zero emission as being run entirely on green energy.
According to the project's scientific leader Gauthier Chapelle:
The base will serve as a meteorological station, geologists will be able to explore the nearby mountainous chain, there is also a little fresh water lake containing microorganisms for the biologists as well as the glaciers to study.
Along with scientific research, Princess Elizabeth will be open to public form from Thursday with a great hope to spread environment friendly awareness among local communities.
Funded by Belgian government, in its minimum 30 years expected life span, Elizabeth is scheduled to transfer to the South Pole from Belgium by ship later this month and will conduct research in climatology, glaciology, and microbiology.
Belgian explorer Alain Hubert, inspired by previous polar expeditions to study the melting of the ice caps as a reaction to climate change, said:
It is the first time that humanity has been confronted with a problem of such a planetary scale, which requires a perfect understanding of the causes and obliges us to find unprecedented solutions.
He further aims at successful hosting of international scientific expeditions scheduled from November 2008.
Via: Discovery