First Hydrogen-powered House in UK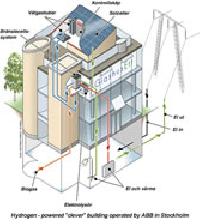 Hydrogen to install a Home Energy Centre! Hydrogen! Yes, UK seems to take us to the cutting edge of the 21st Century. Eyemouth took its place on the world stage as the venue for the first ever such an installation. A European consortium seeking to bring forward-looking hydrogen solutions into a residential setting has come up with this ambitious venture. A newly built family house, belonging to Berwickshire Housing Association (BHA), has provided an ideal 'live' domestic venue for the installation of a prototype hydrogen-powered fuel cell, which uses a Polymer Electrolyte Membrane and separates out hydrogen from natural gas to make heat and power.
The fuel cell is expected to produce 100% of the heating requirements and 70% of the electricity needs of an average household. To test the capacity of the new technology to meet the energy demands of daily family life, the consortium comprises BHA, Aberdeen-based siGEN, Baxi Group, Scottish Power and Scottish Enterprise. Eyemouth is located in a tiny fishing village on the exposed Berwickshire coastline in Scotland. The venture is expected to be completed by the end of next 12 months.
Via: 24 Dash