First ever carbon negative fuel developed from waste chocolate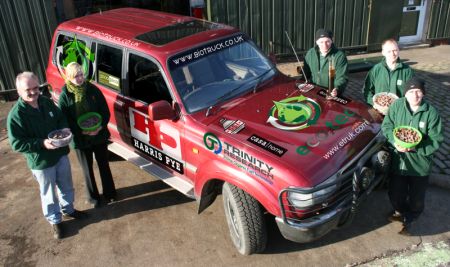 A biofuel has been developed in Preston from chocolate waste. A truck fuelled by this biodiseal will set out from Poole on the English south coast to Mali in West Africa later this month on a charity mission.
The salvaged truck called 'the Biotruck', will be driven by Andy Pag and John Grimshaw.It will travel 4568 miles. After the three week expedition, the journey's carbon footprint will be independently assessed by green energy developer CarbonAided. The Biotruck as well as all the expedition equipment used has been salvaged from scrap and will remain in Mali where it will continue to be used.
This new fuel is carbon negative. Using waste sources means it's not impacting on food sources. The firm developing the fuel is Ecotec. It first turns waste produced from chocolate processing into bio-ethanol, then mixes it with vegetable oil to produce biodiesel. Biofuels are a controversial topic in the food world, as rising commodity costs are often attributed to clearing fields or flattening forests to grow bio crops.
Source: Outsideblog