You can now take your favorite plants for a walk in the Greenhouse 'To Go'
Bizarre and eco friendly can at times go hand in hand; it is all a matter of perception. Plants have always been extremely integral to our lives and their constant presence is not just a stress buster, but if you believe; they are our faithful companions where ever we go. A collective exhibition by the name Another Terra/Home Away from Home was organized on the 17th of April, 2012 and it featured an intriguing entry by the name, the Greenhouse 'To Go'. The greenhouse is the size of a hobo bag and can be easily carried around where ever you go, even if you go to another planet in this case.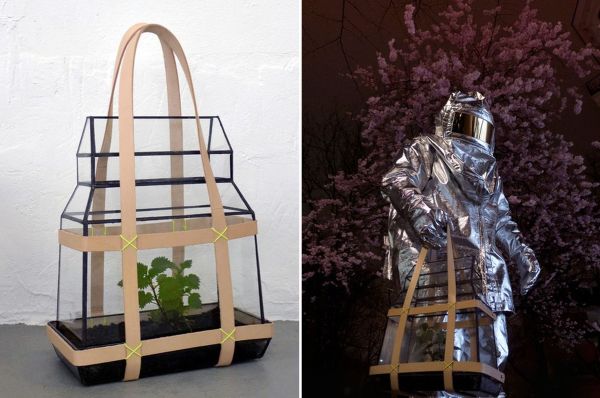 As mentioned earlier, the concept of carrying around a greenhouse with you might seem bizarre, nonetheless it is innovative and eco friendly. Developed by Studio Besau Margurre in cooperation with Adrien Petrucci , it will definitely captivate your fancy.
On close examination you will realize that plants are a part of every walk of our lives, be it for oxygen, for food, clothes, medicines and many other countless things. Given this fact, the creation of the luggage greenhouse is justified. It embodies all the attributes of a conventional greenhouse; the only difference is in the size, which supports a single plant. It gives you the opportunity to plant and preserve your favorite flower or vegetable. Many times you are required to leave home for days together and it keeps you worried about your plants. Therefore, as a solution you can now carry them along in the form of one additional luggage piece.
Via: Mocoloco