F3RH: Modular housing units to counter the effects of natural calamities
Eco architecture is always not about flaunting advanced sustainable systems within some mega grandiose scope. Sometimes it should also allude to improved practicality, and more importantly adaptability to an existing or probable situation. And, that is exactly what F3RH (Free Fire Floating Resistant House) epitomizes, by posing as a sturdy, floating residential unit immune to the frequent bush fires of Australia.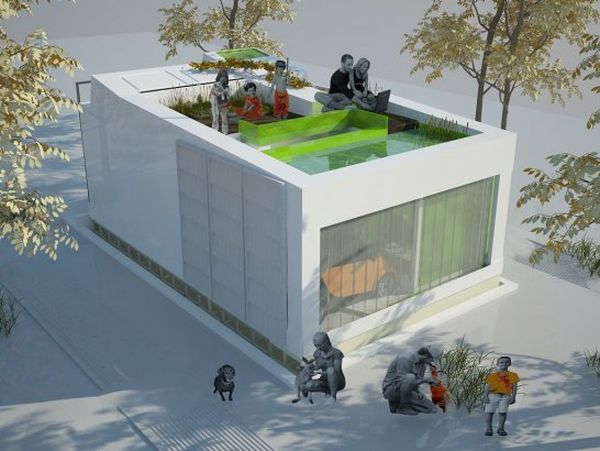 Conceived by architect Mafalda Carmona, the ambit of the design takes a collective approach to solve the predicaments faced by people during natural catastrophes. The first step of the project deals with the construction of an unobtrusive, prefabricated concrete structure, designated as the House Pod. This will be the starting point of the whole complex, where the affected families can initially retire.
Now, coming to the scope of the F3RH, this will be the main quarter for sustenance and long term habitation, free from the clutches of adverse natural effects. The entire block has been envisaged as a floating colony, inspired by the effective survival instincts of certain insects during bush fires. The modular housing units would be placed on special underwater rubber tanks equipped with sensitive sprinklers, while they will be kept afloat by hydraulic mechanisms.
This design consideration can prove to be highly efficient, as once the location gets invaded by fire, the surrounding area will be sprayed with fire retardants along with water from these highly pressurized tanks. Furthermore, as the water gets released from the flexible tanks, the housing units would sink further down, thus effectively surrounding themselves with a 'moat' of water and fire retardant mixture.
Finally, coming to the structural quality of the dwelling units, they will be designed like a simple box type building, in plastic fiber concrete reinforced with a hot dip galvanized mesh. As a matter of fact, each of them will be integrated with internal utilities like frame fitting, electricity and sewerage systems. Moreover, they will also be equipped with an emergency kit, which would include food, water, batteries and even an air purification system.
Via: Architizer