Extendable Sunlinq solar panels for outdoor power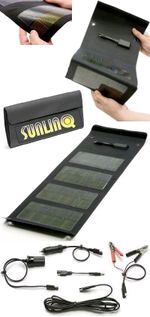 This new device, Sunliq from The Green Shop will surely win the Gadget of the year. With it, you can power your cell phones, digital cameras, digital video cameras, mp3 players, portable video games, PDAs and DVD players. Too good!
Not only that, you can increase the voltage by increasing the 6.5 panel into either 12 or 24. Besides, it is so fault-proof: weatherproof, UV resistant and flexible; convenient to carry, fits everywhere — inside backpacks, glove boxes, purses, and cargo pant pockets.