Eco-friendly Home Electrolyser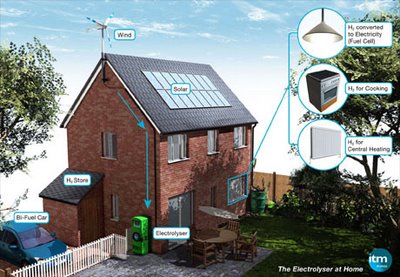 With the consistent rise in population, and considerable advancement in technology, world is becoming more prone to natural disasters. To avoid this, all of us need to become environment friendly. A significant step towards the safety of environment is home electrolyser.

Electrolyser will prepare hydrogen with available energy, such as wind, solar, water and hydro-electric power. ITMPower plc is a UK based firm which is doing significant work for the production of hydrogen in home. This would lead to significant reduction in the emission of carbon dioxide.
You can use this home-generated hydrogen in the form of conventional gas for central heating boilers and cooking. Sources also stated that ITM has also 'developed and patented new low cost materials which significantly outperform and undercut those currently being used by other firms involved in the production of electrolysers.'
You can also transform this stored hydrogen into electricity with the aid of domestic fuel cells for power lighting. Thus, it effectively put an end to the power cut problems. It also offers uninterrupted power supply to schools, hospitals and businesses.
via:ac-investor