EnviroGLAS Expands Web Site and Online Store to Offer Recycled Glass Terrazzo Countertops, Landscaping Products and Floorings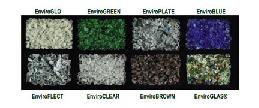 Good news for people who want to make career in architecture, designing, building and also for homeowners who are fond of living in style. Access the official Web site and online store of EnviroGLAS Products, Inc of Plano, Texas, for direct purchase of colorful recycled glass aggregate and custom made EnviroSLAB' terrazzo countertops and EnviroPLANK' floor tiles. It has just expanded its official website to provide you with all related information and pamper your curiosities and know-how. You can view photos of new terrazzo installations, read testimonials, view schematic installation drawings and order samples as well as products. Through the user-friendly online store, EnviroGLAS brings to both residential and light commercial applications, the look of vivid gems embedded in a seamless, glossy terrazzo finish. to see the array of beautiful recycled glass products available from EnviroGLAS, visit www.enviroglasproducts.com.
Via: Environmental News Network
Enjoyed this post? Please share the love...