Enticing solar-Powered birdbath made of Turkish copper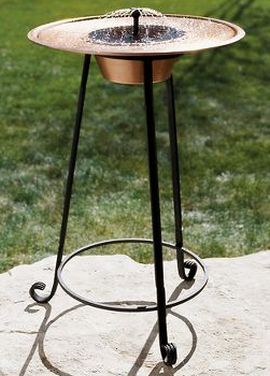 Hammacher has designed a unique birdbath equipped with a German-made solar cell for powering a hidden pump while exposed to direct sunlight. It also has a handmade Turkish brushed copper bowl fort he birds to take a warm bath.
The birds gathering in your garden for a bath are enticed the water that bubbles gently upwards or sprinkles down from above, with the included extension. Priced at $159.95, the birdbath is also eco-friendly for the point that it does not allow the water to stand, which could become contaminated with bacteria or insects.
Via: Hammacher