ENFICA-FC's Rapid 200-FC electric aircraft sets speed and endurance records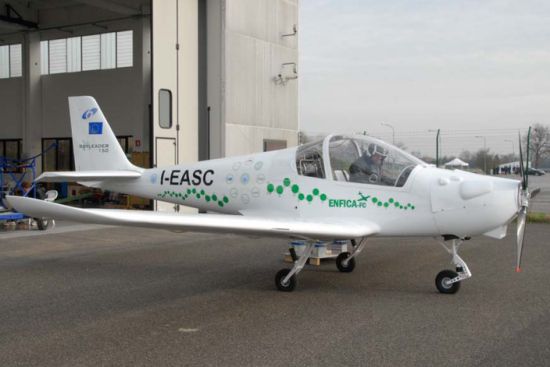 Eco Factor: Zero-emission aircraft propelled by fuel cell and Li-Po battery.
With 10 partners from across the EU, the ENFICA-FC project seeks to demonstrate the viability of manned flight in an electric aircraft that uses fuel cells as a main power supply. The team has worked to design an ultra-light aircraft that is based on a zero-emission propulsion system. Dubbed Rapid 200-FC, the aircraft completed its maiden flight on 20 May 2010 and is powered by an electric hybrid system comprising of a 20KW PEM fuel cell and a 20KW Li-Po battery.
Piloted by Marco Locatelli, the aircraft attained level flight at 700ft and 130kph on a partial fuel cell power setting. Further flights of the aircraft helped it establish a new world speed record of 135kph for electrically powered class C aircrafts. The aircraft did show positive handling qualities and satisfactory engine performance. The plane also broke the endurance record of 45 minutes.
Image Courtesy: Aaron's Environmental Corner
Via: Green Car Congress