Energy-saving transistors made from organic materials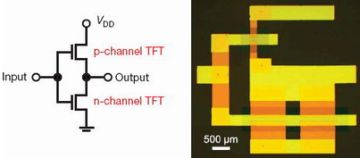 Ah! Now, it's the turn of the transistors to go organic. Not just that. To add to its eco-friendly features, it is made to consume low energy. Making it portable and handy as well, the flat screen transistor can also be rolled up and put into a jacket pocket!
The complementary circuits of the new environment-friendly gadget are made from organic transistors by scientists at the Max Planck Institute for Solid State Research in Stuttgart and at the Universities of Stuttgart and Erlangen.
Characterized by low supply voltages and low consumption values, this energy-saving electronic component consist of two different types of transistors. It can be operated with significantly lower voltages compared to previous organic circuits.
Plastics can be used as the substrate in creating these organic transistors as can be made at temperatures less than 100 degrees Celsius. Last, but not the least, they are flexible and nevertheless robust.