Energy generating bench for sustainably illuminated streets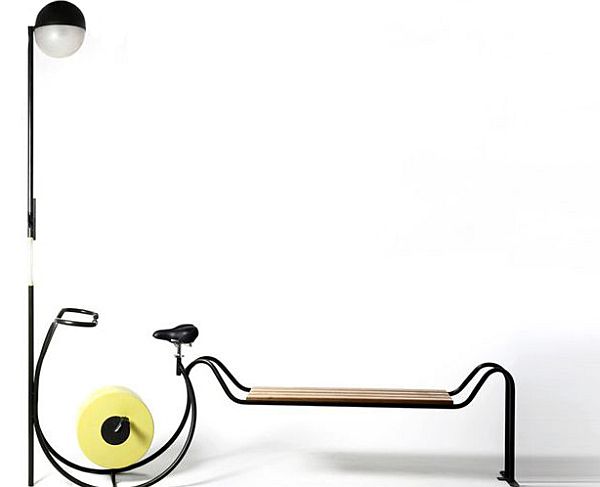 Street furniture with a purpose. Ever imagined a piece of street furniture that would be able to generate power? A post graduate design student at Central Saint Martins, London, did just that! The student, Bharat Bhargava, has combined some of our favorites: bikes, attractive furniture and power that is self generated to create this functional device. His design is essentially a bench that can work as street furniture and is attached to a stationary bike. The bike, when pedaled, can help generate power enough to light up the streetlight. In addition to feeling good about doing one's bit for the neighborhood, one would also burn significant calories while pedaling.
Aiming to increase interaction among pedestrians, Bhargava wanted the concept to give something to society as well. Adding more benches on the street is always welcome, and something unique like this is sure to pique the pedestrians curiosity. Drawn by the bench, citizens will generate power for their streetlights when they exert themselves to pedal the attached stationary bike. What can be better than getting to know someone while doing something for the society? During the course of the interaction, strangers may even become friends! These benches will also facilitate quick, on–the-move workouts for fitness conscious individuals.
It would be great to fill the streets of New York with this innovative concept. However, though brilliant in its wake, the concept may not be understood by one and all. Several residents of New York treat street furniture as their own property. A socially relevant concept like this may not be grasped by such individuals who believe it is their right to spoil anything that comes their way. It is important to educate people about the concept and its contribution to society. In the absence of such education and a civic sense this well designed, a multipurpose piece of furniture will continue to remain just another bench.
Via: CoDesign