Electric Tankless Water Heater: 10 Most Powerful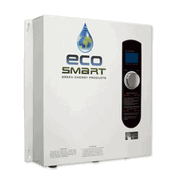 1. Seisco Electric Tankless Water Heater RA-05
BRAND : Seisco
PRICE : USD 559.61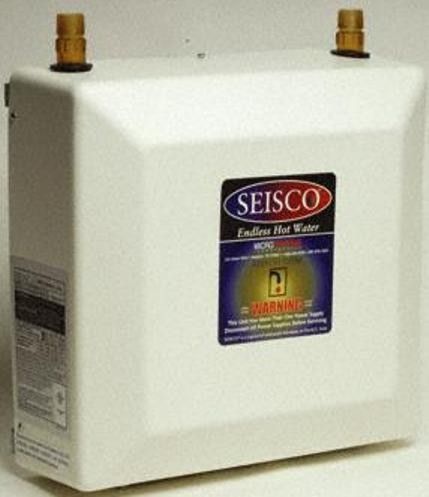 The Seisco RA-5 KW Electric Tankless Water Heater is great for installing in various places such as offices, industrial warehouse wash sinks, coffee bars, convenience stores, hotels and other commercial places. This is also ideal for small motor homes as well as RVs as this tankless water heater works on demand and uses clean energy for heating such as solar and geothermal energy. The temperature of the water can also be effectively controlled. Furthermore, this water heater only required 30 Amp. for functioning which saves on a lot of energy.
USP
It is reasonably priced and very effective tankless water heater, that can be used both in commercial as well as in domestic needs.
PROS
Great for commercial as well as residential usage.
2. Eemax SP55 "Single Point" Electric Tankless Water Heater
BRAND : Eemax
PRICE : USD 213.67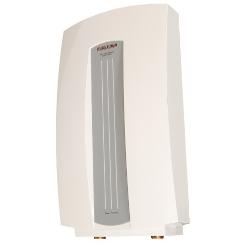 The Eemax SP55 "Single Point" Electric Tankless Water Heater can heat water for one type of commercial sink that is normally found in public places in malls, buildings, service stations, schools and so on. It provides uninterrupted heated water and also cuts down on energy wastage. The installation of this heater is also minimal. It has an inbuilt flow restrictor faucet rator that provides a brilliant spray pattern. It has a mechanism that hinders the growth of Legionella Bacteria. It is also very durable as it is made out of reinforced engineering plastic. The heating element is made of Ni Chrome which ensures the best heat transfer and also extends the life of the heating element. It is compact in size and can be accommodated near the point of use. It also prevent calcification inside the heater.
USP
The tankless water heater is great for commercial application in public places.
PROS
It is energy efficient and works very quickly.
3. Eemax EX65 "Flow Controlled" Electric Tankless Water Heater
BRAND : Eemax
PRICE : USD 224.75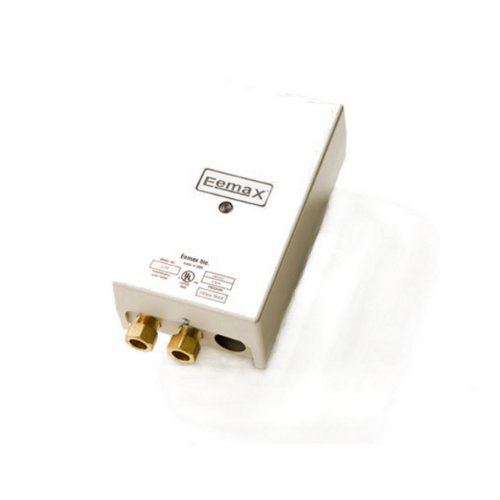 The Eemax EX65 "Flow Controlled" Electric Tankless Water Heater works great with flowing cold water and can heat a maximum of 7 gallons per minute. This water heater is perfect for various domestic application such as for kitchen sinks, manufacturing facilities, utility sink, dual handwash sinks, showers and so on. This water heater provides uninterrupted hot water on demand and does not waste energy due to stand-by mode. The installation cost is also very nominal as it does not require a relief valve. It also prevents the growth of Legionella bacteria and is very durable as it is made out of Engineering Plastic which is high strength reinforced. The heater has a Ni Chrome element that provides an optimum distribution of heat and enhances the life of the element. The water heater is also very compact in size and reduces calcification.
USP
This compact tankless water heater is perfect for domestic usage and has various mechanisms wherein the tank does not develop the growth of Legionella bacteria and calcification. The element of the water heater is also very effective in distributing heat with a long-life too.
PROS
It is compact and works well for domestic purposes.
It is also very hygienic.
4. Rinnai V53e-LP Exterior, 5.3 GPM, Liquid Propane, Tankless Water Heater
BRAND : Rinnai
PRICE : USD 649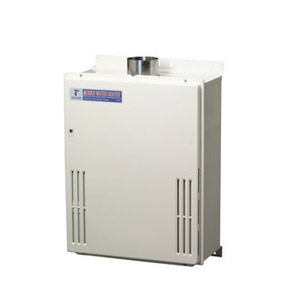 Rinnai's V53e-LP Exterior tankless water heater can effectively provide around 5.3 gallons per minute (GPM) of hot water which is ideal for a home having two bathrooms. The water heater is very compact and also easy to install. Now you can experience uninterrupted clean water that flows at a pre-set temperature (120'F which is adjustable to 140'F) and saves energy as well.
USP
It is a compact tankless water heater that is ideal for a home having two bathrooms.
PROS
The water heater is fantastic and works brilliantly!
5. Stiebel Eltron TEMPRA-12 Whole House Electric Tankless Water Heater
BRAND : Stiebel
PRICE : USD 435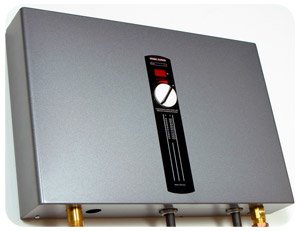 The Stiebel Eltron TEMPRA-12 tankless water heater provides hot water for your entire whole with an unlimited water supply. The Tempra 12 instantly heats the water on demand and provides and uninterrupted flow of hot water. This device also reduces your electricity bills as it saves on energy losses due to stand-by by 15-20%. The design of the Tempra 12 is also very sleek and so it saves on space as compared to a regular storage water heating tank. The water heater also has a temperature control in the shape of a dial and you can alter the temperature of your water to anything between 86'F to 125'F and with an inbuilt advanced microprocessor technology you are ensured water at the preset temperature without any deviations. Installation of this water heater is also cheaper and much simpler. The Tempra 12 is ergonomically designed to be 100% efficient without any loss of heat to surroundings. The product has an excellent track record with great quality.
USP
This water heating system can effectively heat water in your entire home comfortably and also save on your electricity expenses. It is great quality-wise with a proven track record of customer satisfaction.
PROS
Superior and reliable performance.
Very sleek and modern in design.
6. Seisco Electric Tankless Water Heater RA-18
BRAND : Seisco
PRICE : USD 811.17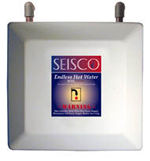 The Seisco electric tankless water heater RA-18 has four chambers that are perfect for usage in condos and apartments as the temperature of water does not dip beyond 60'F. This heater is also great form providing split systems by serving individual usages such as shower/bath, kitchens and lavatories as well. It also works well for hot tubs and spas.
The RA-18 is the perfect supplement to an existing water heater which is unable to satisfy user requirements. Ideal for the whole house, where incoming water temperatures rarely fall below 65 degrees F. Excellent for split systems serving lavatories, individual showers and kitchens. Spas and hot tubs.
USP
The RA 18 is great for split functions as it can provide hot water simultaneously in the kitchen, shower lavatory which makes it very attractive and convenient.
PROS
Great product which is very efficient.
It is small and compact with high performance.
7. Stiebel Tankless Electric Water Heater, Model DHC 3-1
BRAND : Stiebel
PRICE : USD 219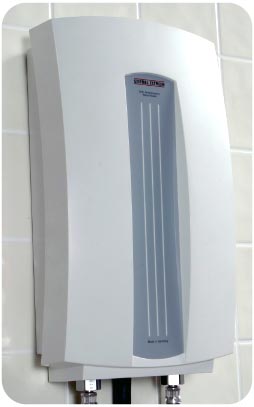 The Stiebel tankless electric water heaters instantly heat the water as it flows eliminating all stand-by costs. The heating elements of this water heater is controlled via a flow switch that keep the temperature of the water in safe limits always. The copper design of the pipes makes it a very durable product. This tankless water heater uses half the power consumed by a regular storage water heater and it instantly produces hot water. The heater is also equipped with an inbuilt scald guard thermostat. The cost of installing this water heater is also very low. This device is available in many sizes and are perfect for applications such as kitchenettes, office/commercial setup, and restrooms and so on.
USP
Very affordable and durable wherein the costs of heating water reduces by almost 50%.
PROS
Very effective and afforadable.
8. Rheem Electric Tankless Water Heater RTE 9 Indoor Series
BRAND : Rheem
PRICE : USD 219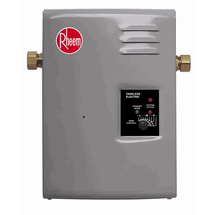 The Rheem tankless electric water heaters are great for applications wherein you require hot water on demand. The water heaters are very efficient in terms of energy saving and have a compact size that makes it easy to accommodate them in any place. The device has LED that indicate the standby mode and active element mode. It is also very easy to install this water heater.
USP
Very compact in size and also very energy efficient too.
PROS
Energy efficient.
Can fit easily in any location.
9. ECO 21 Electric Tankless Water Heater
PRICE : USD 495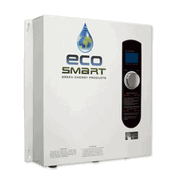 The ECO 21 electric tankless water heater are made using the smart technology and are configured particularly for climates where the water temperatures can go as low as 60'F. This water heater has the capability to heat almost three gallons in 60 seconds at this temperature. The ECO 21 is also the largest amongst all the electric tankless water heaters that are available in the market and is equipped with a Self Modulating Technology. These water heater models are perfect for houses located in Canada, Northern and southern U.S. There is also a digital temperature control through which you can increase or decrease your temperature settings.
USP
The largest electric tankless water heater.
PROS
It is very energy efficient.
It is perfect for domestic hot water requirements.
10. Eemax EX190TC Series Two Electric Tankless Water Heater with Single Thermostatic Control
BRAND : Eemax
PRICE : USD 496.93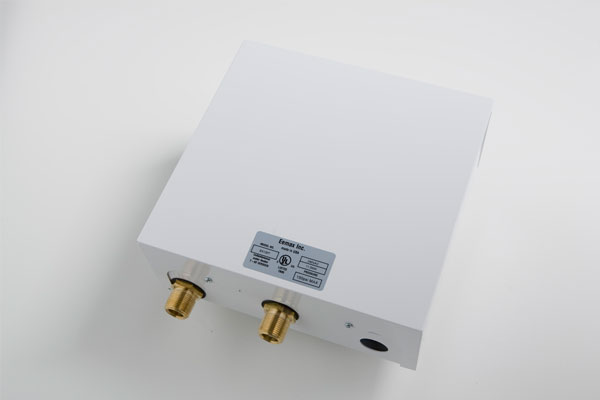 The Eemax EX190TC Series Two Electric Tankless Water Heater with Single Thermostatic Control is a great water heating unit that can serve an entire apartment, condominium or even a cabin. This water heater can be fed with cold water or hot water and the water flows at a rate of 0.75 GPM. The thermostat of this water heater is easily adjustable and provides precise temperature control. This water heater is perfect for both domestic and commercial applications as it can adjust the temperature at a precision of ±0.5°. You will get a continuous supply of hot water. Installation costs of this water heater are also reduced and installation is also very easy. This water heater is also very energy efficient and durable.
USP
This water heating unit is very compact and has a great water heating control precision which makes it apt for various commercial as well as domestic purposes.
PROS
Compact in size.
Works very efficiently and quickly.