Electric Bike concept for Superior Bikes features a hydro-formed aluminum frame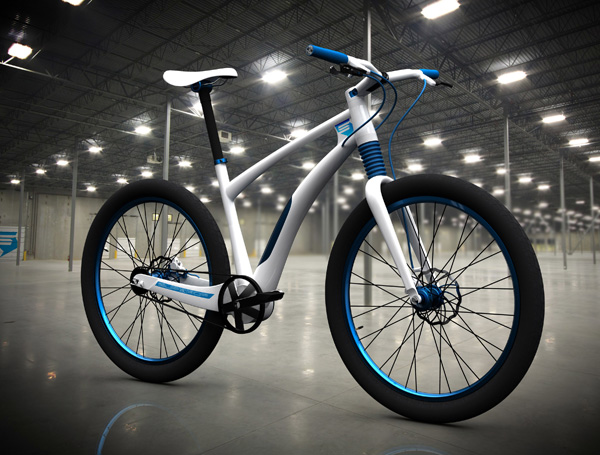 Designer Vojtech Sojka has come up with an elegant concept for Superior Bikes as part of his thesis project. Quite similar to regular bikes in most aspects, the bike designed by Sojka, dubbed Electric Bike, has certain unique features which help differentiate it from the rest. The design is neat and the electric motor takes position in the bike's bracket. This positioning allows more balanced distribution of body weight as compared to bikes where motors are installed in rear hubs. The bike also has a hydro-formed aluminum frame. The bike's battery is conveniently placed in its seat tube and all other accessories of the bike include a carbon belt drive along with a branded hub.
The designer's initial idea was to have a regular diamond look and an elaborate dropout system for the bike's frame. After playing around with the design, he decided that eliminating the seat stays would make it easy for the biker to wear the belt. This was facilitated by an increase of 200 grams in the bike's weight. The increase in weight also adds to the rider's comfort as it allows slightly greater deflection of the rear 'triangle'.
Wide 2.35" tires from Schwalbe Super Moto make riding a pleasurable experience. It is a fact that the use of short chainstays makes the bike's design a bit complex, but Sojka justifies that the resultant extra clearance of tyres was a benefit that made this decision worthwhile. Sojka's design includes dropouts that face the rear end of the bike and a brake caliper flange that pivots. Complete caliper moves along with movement of the rear wheel, thus ensuring that the brake's position is always correct. According to the designer, this solution works best as it simplifies the process of setting the correct position of the rear wheel and brake.
Several new concepts are developed by designers all over the globe on a daily basis. It is quite common to hear about inventions and design concepts that promise to improve the quality of life. Very few of these concepts actually see the light of day as several of these concepts are terminated at design stage due to factors like lack of attention of detail or financial infeasibility. The concept developed by Sojka looks highly impressive on paper however continuous development is essential in order to perfect it. What remains to be seen is whether Superior Bikes manages to take the concept forward and implement it successfully.
Via: YankoDesign