EFGH designs a green recreational landscape for Rosario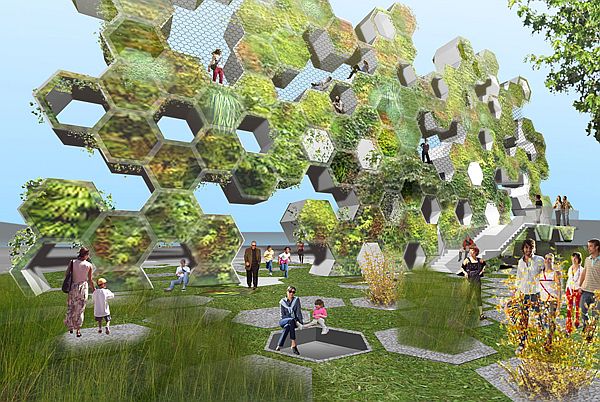 So far the city of Rosario, the industrial hub of Argentina, has been famous for its neoclassical architecture that has been retained over hundreds of years through its public and private buildings and tourists have thronged the city to have a look at the beautiful archaic buildings preserved through conscious efforts by its residents. But very soon, Rosario could also be known for its contemporary designed honeycomb structured park at the banks of Paraná River.
The recreational park has been designed in such a way that it provides optimal spaces of public spaces. It also gives an opportunity to the visitors to view interactive designs and enjoy the breathtaking beautiful views of the Paraná River. The park has been named as Billboard park because of its unique structure which uses both the horizontal and vertical spaces. The vertical structure of the park has striking similarities with the bee hive and the visitors can stand on the small units of this billboard like structure and can have an eagle's eye view of the river.
The park is set in a triangular shaped plot of land and makes best use of the available space. The green side of the park faces the river and makes it an incredible experience to look at the river. The plants in the holes are grown in light weight soil free medium to avoid any kind of excess burden on the structure of the vertical park. There are a lot of niches in this structure from where the city of Rosario can be seen in a new light. The credit for designing this unconventional park goes to a New York based firm, EFGH Architectural Design Studio. The firm is known for creating unconventional and yet multipurpose buildings. The park is an example of using unconventional strategic approach in designing public spaces.
Via: Evolo