Eco-Wine Cube serves specially made sustainable wine only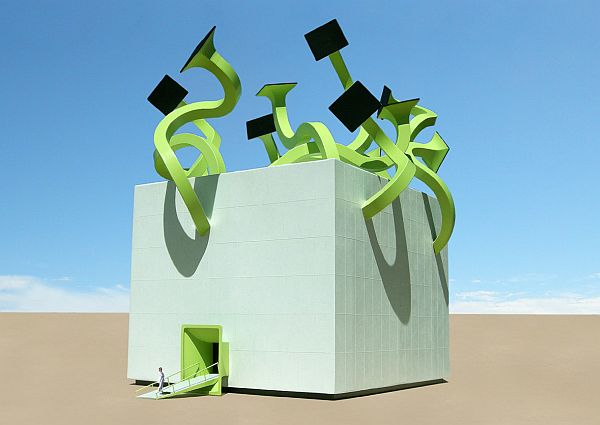 At the first instance, it may look like a giant unwrapped gift box. However, this intriguing conception from Michael Jantzen can certainly be the 'green' gift to wine connoisseurs. Dubbed as the Eco-Wine Cube, this special kind of design proposal calls for an exclusive wine bar, which will incorporate sustainable building materials fused with an entirely energy efficient system. The Cube – in the process – will exhibit an intricate confluence of art, architecture and technology.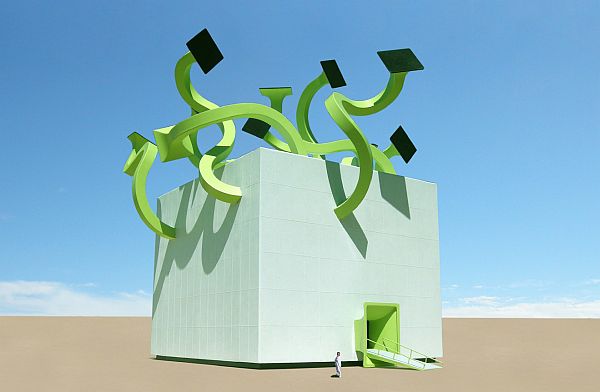 The conspicuous elements that are noticeable in this unique design are the several irregularly convoluted and intertwining 'appendages' making their way on the roof. According to the designer, they symbolically represent a giant grape vine that has grown out of the top of the cube in order to gather energy from the local environment. But clearly, in-sync with their high visual magnitude, they also form the most important functional system in the whole design.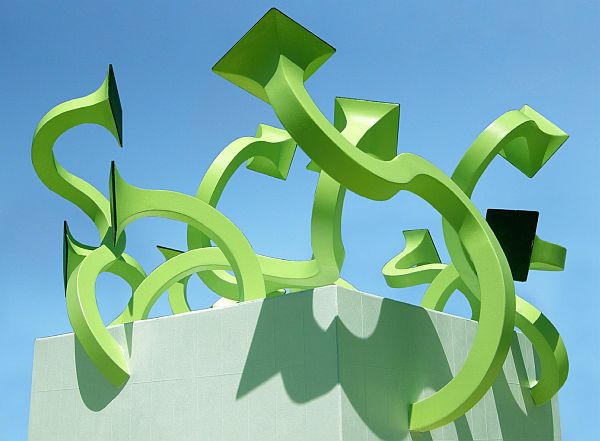 The appendages have a myriad of functions clearly relating to the sustainability of the structure. They play the dual role of both the energy generators and also energy transmitters.
As the designer puts it:
Some of these appendages are fitted on their funnel shaped ends with photovoltaic panels for generating electricity from the sun, some can solar heat domestic water. Some are equipped with light gathering and amplification systems. Others are able to catch and filter rainwater, and some are designed to direct air into the cube for natural ventilation. Some of the funnel shaped ends of these appendages are fixed into a specific orientation, while others can be articulated for optimum efficiency.
So basically, this adroitly conceived system incorporates the whole sustainable package, including solar energy, skylights for daylighting, rainwater harvesting and natural ventilation.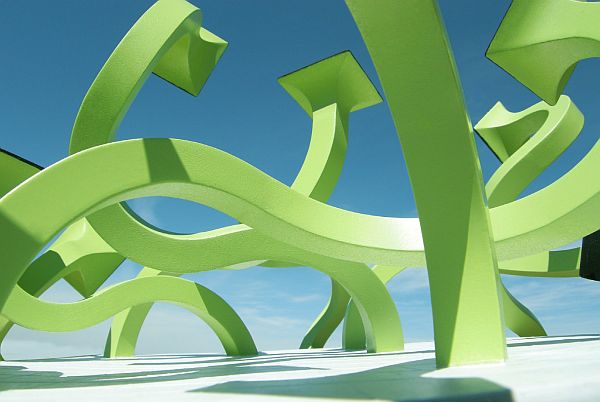 Coming to the interiors of this eco wine club, the interactive walls would sport solar powered LCD digital display windows, connected to the above appendages. Some would exhibit images of other wineries, whereas some would display relevant wine related information. The whole interactive system will finally culminate in the naturalistic central support structure, which would be integrated with huge LCD screens showing the exquisite wine selection of this particular wine club.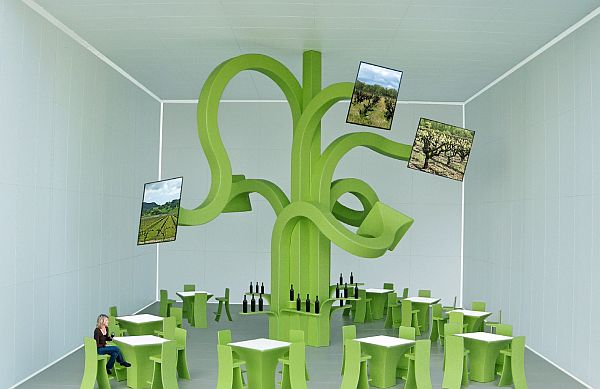 All images © Michael Jantzen [Used with permission]
Thanks: [Michael Jantzen]