Eco Tech: Solar-powered parking lot opens in Isla Vista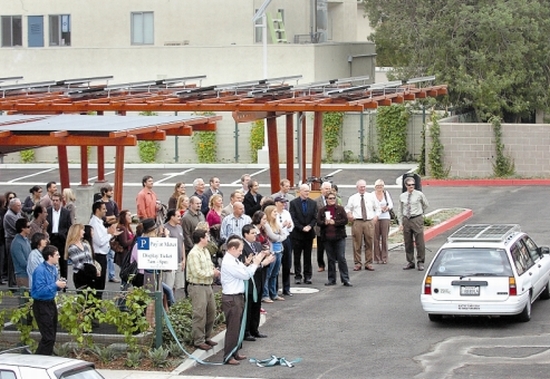 Eco Factor: Parking lot equipped with solar panels to generate renewable electricity.
Industrial designers have for long dreamed about the possibilities of solar-powered parking lots that not only generate electricity for lighting but can also recharge next-gen EVs with clean energy.
Isla Vista in Santa Barbara County, California witnessed the opening ceremony of its first solar-powered car parking lot that offers 45 parking spaces and is equipped with an array of 98 solar panels mounted on steel beams to power the lights and parking meters in the lot.
Built on a half-acre site that once housed a gas station, the solar parking lot will soon be equipped with 109 solar panels, enabling it to generate energy to power all lights along Pardall Road.
Via: The Daily Sound