Eco Tech: Kyocera donates solar power generating system to power hungry schools of Nepal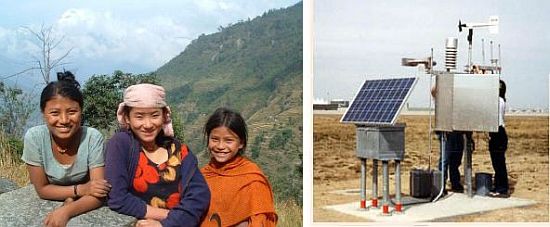 Eco Factor: Solar energy generating systems to be donated by Kyocera.
The Asian Development Bank states that about 80 percent of the population of Nepal lacks access to the power grid and cannot afford expensive renewable energy generating systems for the power needs. Kyocera has come to the aid with an announcement that the company will be donating solar energy generating systems to some middle schools in Nepal.
The package would consist of a system capable of generating 600-watts of solar energy, energy storing batteries, audio visual equipment and lights. The company would donate and install the systems in three schools annually for five years commencing from 2009.
The Dark Side:
600 watts of solar electricity is just not enough to power a school or even a few computers over there. An average household needs about one kilowatt of electricity for powering basic equipment. However, the steps taken by Kyocera are praiseworthy, but more steps at an even larger scale should be taken by the developed regions of the world to provide power to countries like Nepal.
Via: TechGeer