Eco-sac for a 'green' house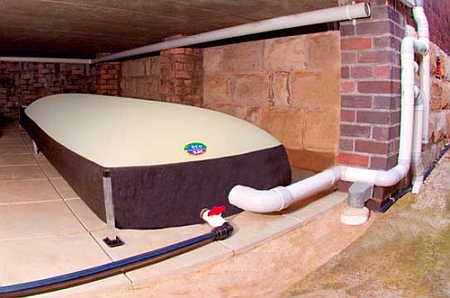 Don't let the huge rainwater storage barrels spoil the look of your brand new house or office building. If you own too small a space to fit in those huge barrels, don't sulk. You certainly do have an alternative and a better option indeed.
Try this Eco-sac, a flexible, enviro friendly rainwater storage bladder. The Eco-sac occupies less space but that is no issue anyway because it can be snugly fit under the deck or floor. These Eco-sacs are robust and durable as they use industrial strength fabric – beige coloured PVC material sealed by high frequency welding, making it leak proof and is algae resistant. The material used and design are highly suited to Australian standards, but are expected to serve the purpose in other countries too.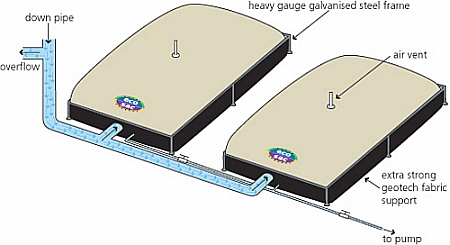 Rainwater that collects on the roof is directed to the sides of the Eco-sac via pipes. There is no problem of over-flowing because it is installed in such a way that, water exceeding the bladder capacity, is diverted to existing storm water system. The mechanism is much simpler and water gets collected much faster than the traditional rainwater collection tanks.
The bladders are avilable in 54 different sizes to choose from, ranging from 2,200 liters to 8,600 liters. However, for houses requiring even greater capacity, it can be fitted with multiple Eco-sacs side-by-side or end-to-end to a capacity of 50,000 liters or more. The company gives a 10 year warranty which only makes goodness of the product implicit.
via : Groovygreen