Eco Motorcycles: Modified Kawasaki ZX-10 gets hybrid engine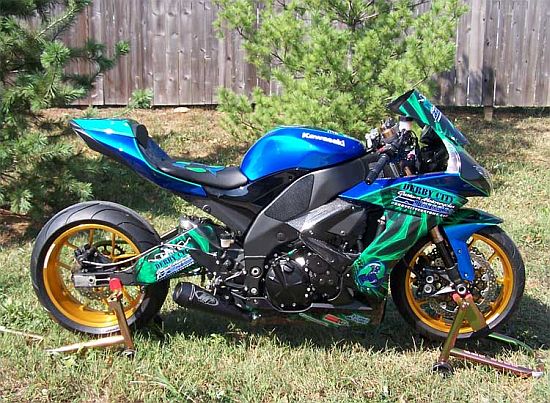 Eco Factor: Motorcycle with a gasoline-hydrogen engine.
Don't sacrifice your love for superbikes for the environment, if you can get your ride modified like the Kawasaki ZX-10 owned by Jason and Jeremy Cantwell. The duo got their ZX-10 retrofitted with an ecofriendly gasoline/hydrogen engine. These brothers are still able to churn out 170 hp from the engine but as an added benefit they doubled the mileage of this beast.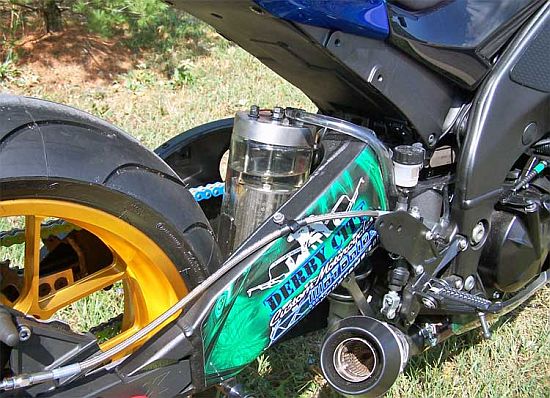 Apart from the hybrid engine, the bike also has handmade carbon fiber bodywork, lightweight wheels, and to add some weird looks, custom vinyl graphics from Digital EFX. The bike is currently being displayed at the ongoing SEMA 2008 show being held in Las Vegas, Nevada.
The Dark Side:
Apart from some weird looks, the duo still went for a gasoline/hydrogen engine. We would have risen out our hands to them had they been able to get a completely hydrogen or an electric engine, of course without sacrificing on the looks of the original Kawasaki ZX-10.
Via: FasterandFaster/Knfilters