Eco Motorcycles: College students build hydrogen fuel cell powered motorcycle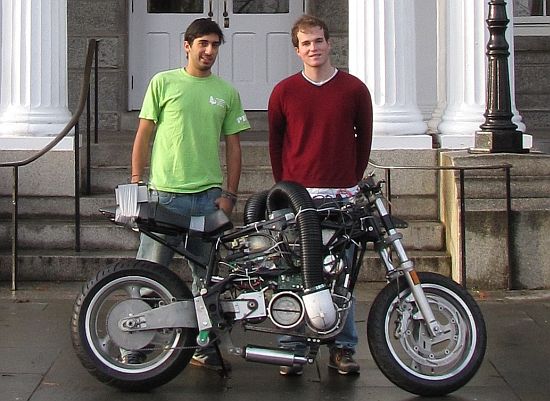 Eco Factor: Zero emission motorcycle powered by hydrogen.
Two engineering students at Swarthmore College, Alex Bell and Andres Pacheco, have succeeded in taking their education on a greener route by building a fully functional hydrogen fuel cell powered motorcycle. Built around the chassis of a Buell Cyclone, which the duo purchased at a salvage yard, they had to remove the unecofriendly internal combustion engine and other factory components of the bike to replace it with their own eco-stuff.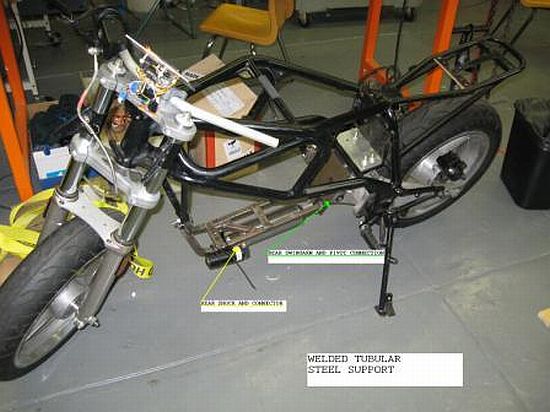 The duo integrated a Polymer Exchange Membrane stack that can generate 1.2KW of electric power. This energy is fed into a 1.2KW 6-pole induction motor. Pure hydrogen is stored in two metal hydride cylinders at low pressure. The inside of the cylinders is filled with metal powder consisting of lathnium, nickel and aluminum. This powder reacts with pure hydrogen, converting it into metal hydride, enabling the cylinders to hold 900 liters of hydrogen at low pressure. The average efficiency of the bike is claimed to be around 46%, which is great considering the materials used to build the bike.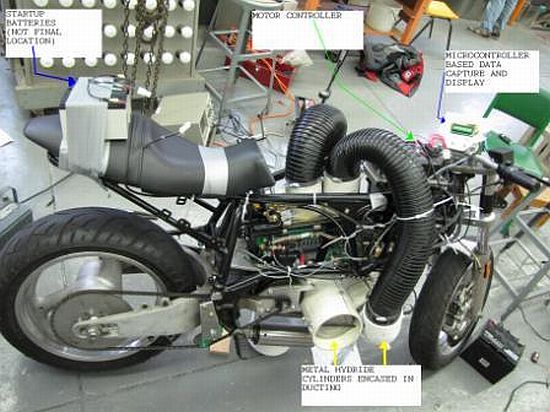 The Dark Side:
The technology used in the bike does show the potential of hydrogen as a fuel. We do appreciate the efforts of the students to develop a green motorcycle in their lab. However, the overall safety of the bike is still something we doubt.
Via: Treehugger/Swarthmore Engineering