Eco Gadgets: MIT students develop pedal-powered washing machine from recycled materials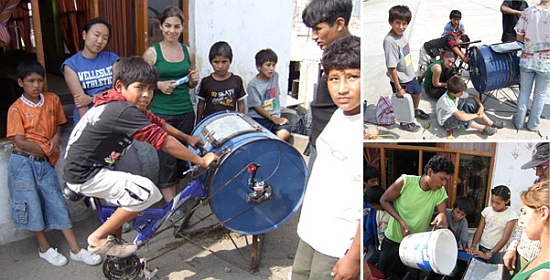 Eco Factor: Recycled washing machine works without electricity.
Recently we saw a team of students at MIT develop an energy harnessing shock absorber system that could provide electricity for your next-gen electric cars, and today we have another green design from the same institute. "Bicilavadora" is a new pedal-powered washing machine that has been designed by a team of students at MIT using nothing more than an old oil drum, an old bicycle and some pieces of plastic joined together.
The washing machine is targeted toward those regions of the developing world where residents don't have access to grid electricity and having a washing machine is considered a luxury. The washing machine consists of an outer housing made of a standard oil drum cut apart and welded to make a shorter barrel, since churning 55 gallons of laundry with pedal-power is not feasible.
The inner drum, which the team states as one of the most critical parts of the design, is made from a set of identical plastic pieces together. The system is then connected to an old bicycle sans its wheels. The chain is connected to a gear mechanism harnessed from an old geared mountain bike. The highest gear is used for the spin cycle and the lowest gear for the wash cycle.
The Dark Side:
The design is not yet complete, as during the initial tests some water seeped out of the drum. However, with some small changes an updated version could be able to handle the intensive workload.