Eco Gadgets: Energy generating suitcase harnesses kinetic and solar energy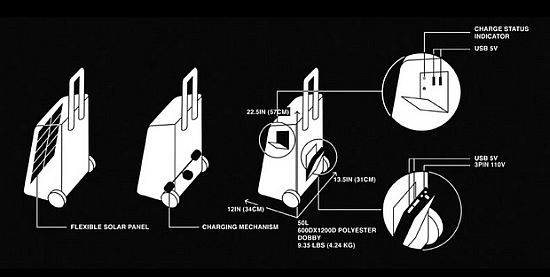 Eco Factor: Suitcase generates renewable energy for charging portable gadgets.
Ohad Folman, a student at the ITP, has created a design for a futuristic suitcase that will not just hold your belongings but also charge your portable electronic gear on the move. Known as the "Pluggage," the suitcase comes with a solar panel to harness solar energy, a stepper motor to charge the rolling energy, an external battery pack and a multimeter to display the amount of juice in the battery.
According to the designer, the solar panels are capable of generating over 4.5W of electricity, which when coupled with the rolling energy can charge a laptop for 1.5 hours, after a 2 hour walk time in the sun at a decent speed of 2-5kmph. The system according to Folman could be made available in different variants and should retail for $300 to $550, depending on the integrated systems.
Via: BBG