Eco friendly options of tiles underlayment
Environmentalists advocating sustainable development feel that with green flooring the floor underlayment should also be green. An underlayment is a material that is placed between the subfloor and the floor. It acts as a sound and moisture barrier. Some underlayments contain products with harmful levels of volatile organic compounds (VOCs). To have a healthier indoor environment, it is important that we choose a toxin free underlayment material, which should emit minimum level of VOC and should be renewable and biodegradable. The material should not contain ingredients like zinc, benzene, formaldehyde, alkyl phenol, and ethoxylates. Here is a description of some underlayments to help you make a choice easily.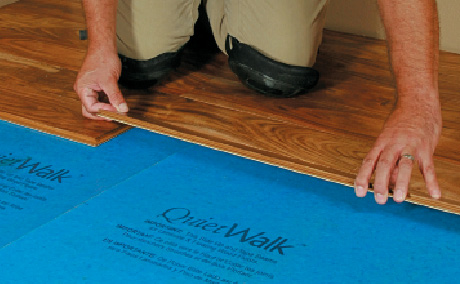 1. Cork underlayment
Cork is a natural underlayment material. It reduces noise transmission, acts as an effective thermal insulation barrier and offers stress crack protection. It is better than other alternative materials, as it is economical and easy to install. It contains air-filled pockets, which enhance its cushiony properties. It is the perfect eco-friendly flooring underlayment choice as it reduces sound and offers stress crack protection under hardwood, laminate, ceramic, and stone floors. It is hypoallergenic and does not require VOC–free adhesives. It is a renewable resource and trees are not damaged or destroyed to produce cork rolls or cork sheets.
2. Latex or rubber leveling underlayment
Latex or rubber underlayment is made from plant sap of the para rubber tree. The sap is withdrawn directly from the tree. The tree's growth is not disturbed. Latex or rubber underlayment is easy to install and has low VOCs. It is self-leveling, sturdy, non-toxic and has antimicrobial properties. However, sand, cement, or polymer based centrifuged latex is available in the market these days.
3. Floating installation
It is the best green option because it does not require adhesives. With the use of tongue and groove method, it floats on the subfloor forming a single panel without actually being attached to it. It is fast and inexpensive. It is a perfect moisture and heat barrier. A properly installed floating floor neither develops gaps nor swells under changing climatic conditions. However, there are some disadvantages like a solid flooring cannot be floated. It gives a springy feel and produces a tapping and clicking sound.
4. Underlayments of recycled textile
Recycled fabrics mixed with resins form a perfect floor underlayment. It is biodegradable, non-toxic, and antimicrobial. It serves as an acoustic barrier. Unlike other materials, it does not wear off fast and has higher Indentation Load Deflection (ILD). The use of adhesive is limited which emits VOC gases into the living areas.
5. Geo textiles
Green geo textile materials are also available. They are made from recycled bottles. They serve as sound and moisture barrier. They are resistant to climatic variations. They do not cup or buckle up in winter or crack up in dry summers. They are made of 100 percent recycled material, are nontoxic, and low on VOC emission. Geo textiles are not only used for indoors underlayment but can also be used for outdoors like garden pavements.
6. Glue down method
In glue down method, adhesives are used in ample amount as they are applied on the entire surface of the subfloor. They are costly, messy and labor intensive. However, they are strong, sturdy, and more solid underfoot. Mostly people prefer glue down method for their sturdy underfoot feeling. The best way to use this type of flooring is to choose a "zero VOC" adhesive.
7. Nail and staple down method
Nailing or stapling is fast and inexpensive. It needs an adequate substrate to hold the nails. In most flooring, a stapler appropriate for the thickness of flooring is installed. Some staplers need an adaptor plate for thick flooring. Since no adhesives are used, they have zero VOC emission.
8. Foam underlayment
Foam is made up of petrochemicals and is not easy on the environment but it is a perfect sound blocker. It gives the floor thermal insulation and bridges some of the minor gaps that subfloors or existing floors have. It is best for concrete floors and laminates. Its non-toxic and non-emitting nature makes it more acceptable.