Eco friendly materials for sustainable buildings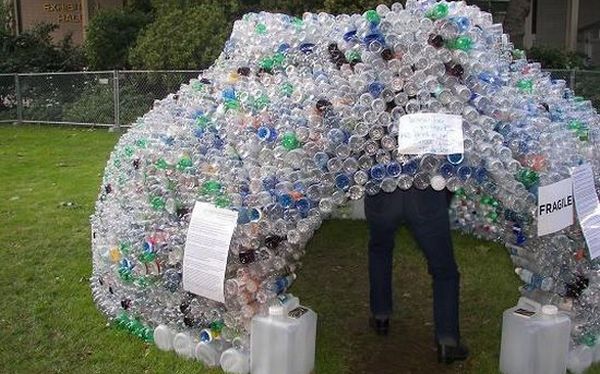 The use of standard and age old traditional building materials like sheet rock and lumber have become outdated and undesirable due to the harm they imposes on nature. Their use has been taken over by more sustainable and recyclable materials., which support the 'go green' revolution to protect the valuable surroundings of the planet. It is indeed commendable to observe how unconventional and offbeat recycled junk is being utilized to construct sturdy and sustainable buildings all across the globe, getting the right support from engineers and builders globally.
Recycled materials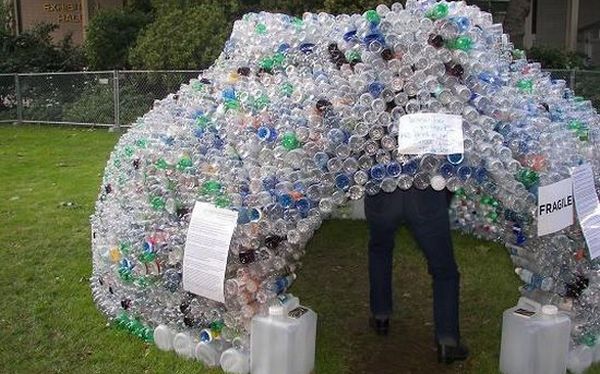 1. Bottles– Jasmine Zimmerman has artistically utilized the most abundantly ill disposed material in the face of plastic bottles by creating and formulating an open roof green house structure. Although fragile in nature, the structure is more an artistic symbol meant for promoting the use recyclable materials.
2. Shipping containers– Jim Poteet, an architect in Texas has beautifully used a 40 foot long shipping container to construct an all in one playhouse, guesthouse and a garden retreat. The entire structure rests on recycled telephone poles with composite toilets, bamboo flooring, a green roof, floor to ceiling glass doors and windows. Having large glass doors and windows encourages ample sunlight to enter the premises, thereby reducing energy consumption as well.
3. Recycled steel– The Sea train house by Jennifer Seigal is another live example of using ecologically sustainable materials to construct a beautiful and durable housing structure, which contains all basic amenities for a comfortable modern day living. The house has been made out of storage containers and steel found to be useless. The grain trailers have been converted into Koi fishpond and lap pool, thereby providing entertainment to its dwellers,
4. Recycled tyre– Yet another innovative creation has been made by builder and inventor Aidan Quinn, who has created an eco pod house having solar panels attached to its roof for heating water and a wind turbine, which generates power. The house even possesses water harvesting system and an odor free dry toilet. All in all, this house is a perfect blend of beauty and creativity with utmost concern for nature.
5. Wood– Keeping in mind the fact that millions of people lose their shelter due to natural calamities every year, designers Azin Valy and Suzan Wines of I-Beam Design company have formulated a provisional refugee dwelling structure to provide intermediary relief in the form of a pallet house. This wooden house encloses smart features compiled out of cheap materials, which can be easily mantled and dismantled as per the owner's choice and requirement. However, this temporary dwelling structure can be made permanent very conveniently by including stone, mud, plaster and concrete.
Sustainably sourced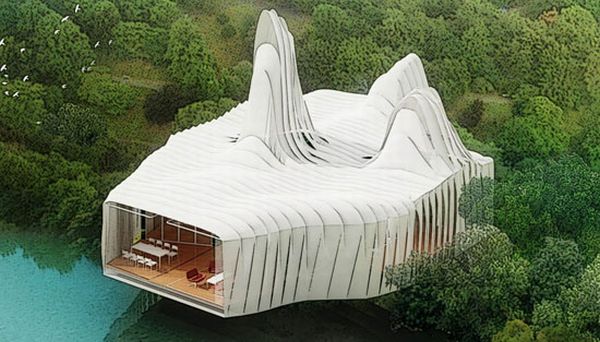 1. Sustainable sourced wood– Perfect for campsite use, designer Benoit Fray has designed a treehouse made from wood acquired locally. Being on the crown of a tree at a height of 5m from the ground level, the structure contains all basic amenities for a comfortable living and can support up to 6 people at any given point of time. However, when not fully used to its maximum capacity, the house can be expanded and contracted as per the needs and requirements of the number of dwellers. The entire structure is powered from natural renewable resources.
2. Sustainably sourced silicon glass fabric– Graft Lab architects have formulated and designed a zero energy home in Kuala Lampur, Malaysia, made from glass fabric, which has been sourced sustainably. Named as the Bird Island, this airy voluminous structure is light weight and flexible, with the capability to sway along the blowing breeze, just like the top of a tree. Bamboo framing, along with tensile, an eco friendly material, has been used for its construction. The house reflects sunlight to ensure cooler interiors and even uses grey water recycling system to meet its water requirements, thereby conserving water as well.
3. Sustainable timber house– Gyllehaugh Lahe, a house by Reid Jubb Brown Architects in England, is a perfect blend of amazing style and design to create a beautiful dream house using ecologically responsible materials along with green practices, housed with renewable energy resources. The water requirements of the dwellers are met by rainwater harvesting and for energy; active as well as passive solar technology has been used.
4. Sustainable bamboo– At times, nature can get harsh and leave you homeless without any prior notice, hence designer Ming Tang, has come up with the idea of constructing temporary dwelling spaces using sustainable bamboo poles, which are pre assembled into rigid geometric shapes. These structures, being made out of bamboos and other renewable materials, are absolutely light weight and can be easily assembled and folded back into invariable shapes.
Non toxic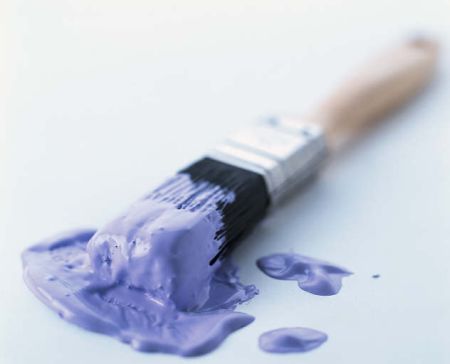 The inclination and attempt to promote eco friendly objects can be achieved not just be constructing sustainable eco friendly buildings, but also by switching to the use of non toxic materials for the interiors of your home.
1. Clay paint– Bioshield has launched paints made from clay, which impart a natural finish and grittier texture to the walls of your house in an eco friendly manner. With greater modulations in color, you will seldom get the same finish with latex paint.
2. Reben– Japan based scientists have invented an environmentally remediable paint, extracted and formulated from 100 percent natural materials. It is a durable varnish, which conveys a plaster like feel and finish without emitting any harmful volatile organic compounds.
3. PVC-free wall coverings– Green America Décor, has attempted to promote high quality environmentally safe products in various verticals and categories and one such product is the PVC-free wall coverings.
4. Plumbing– The Guerrilla plumbing method attempts to introduce ways to save the earth by freaking around and ensuring less usage of water in the toilets, thus promoting water conservation.
Recyclable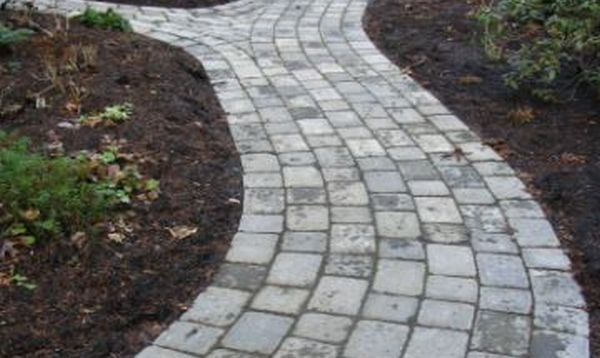 1. Formaldehyde– Conventional hardwood plywood contains urea formaldehyde, which releases harmful gasses in the air. Opting for eco friendly formaldehyde free plywood would eliminate the release of these toxins into the air and lower the risk of spreading air borne illness. To achieve the desired result, recycled construction paper can be dipped into wallpaper paste and mixed with the desired choice of color for applying on the walls to get amazing 'green' results.
2. Used Paving stones– Eco friendly composite pavements made from recycled tires and plastic containers is a great idea that paves way for an amazing eco friendly deck. The modular composite paves from Vast, have been made using 95 percent recycled materials, and are almost one third in weight as compared to concrete paves.
3. Special porous pavers– Environmentalists and conservationists have come up with an innovative idea of creating porous concrete pavers containing special additives. These are capable of collecting and purifying run off rain water, thereby storing them under the ground in large tanks, to further channelize them to be reused for the purpose of irrigation, cleaning as well as for flushing toilets.
4. Plexiglass– The plaza area of the Royal Danish Library in Copenhagen, Denmark, has been designed and created by artist Tom Fruin, who has used reclaimed plexiglass pieces for the construction of his building. The manufacturing process to make plexiglass is more eco friendly than glass and also it is a better raw material in comparison.