Eco-friendly house that moves on land and water!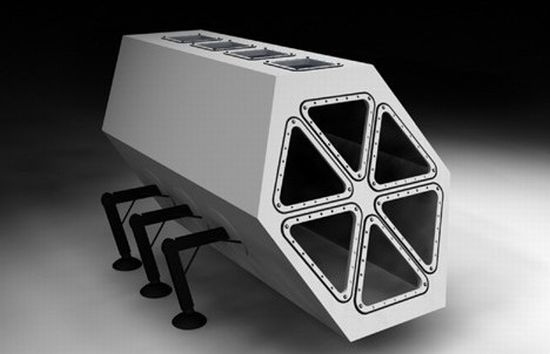 'Walking house' is a modular dwelling system that enables persons to live a peaceful nomadic life, moving slowly through the landscape or cityscape with minimal impact on the environment. It collects energy from its surroundings using solar cells and small windmills. There is a system for collecting rain water and a system for solar heated hot water. A small greenhouse unit can be added to the basic living module, to provide a substantial part of the food needed by the Inhabitants. A composting toilet system allows sewage produced by the inhabitants to be disposed of. A small wood burning stove could be added to provide CO2 neutral heating. It's amphibious and equipped to move both on land and water. It is not dependant on existing infrastructure like roads, but moves on all sorts of terrain.
Each unit is equipped with the basic systems for maintaining everyday life for a maximum of four persons. But it could easily be scaled up for larger family structures. Furniture is an integrated part of the structure. The module can be constructed from numerous materials. The rear of the modules opens up to form a stair that functions as an entrance. Each leg works as an autonomous unit with its own accumulators and linear actuators. The concept is that six legs could be mounted on any kind of structure and makes it walk. When it walks three legs are always on the ground to provide the necessary stability. It is a common fact that walking often helps a person concentrate their thoughts and creates a mental state that enforces mobility of the mind.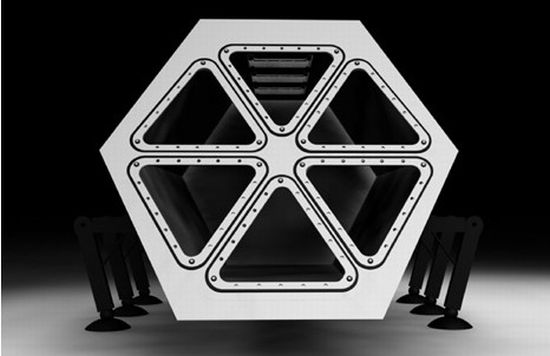 The walking house is constructed to move at human muscle speed, exactly for this reason. By adding several modules together the system can provide dwellings that adapts to social needs for living as a single person, in a family, a collective or even in a walking village. In this way the walking house adapts to persons instead of persons having to adapt to the house.
via: Gadget