Eco friendly granite tile countertops
There is no doubt that the beauty of granite has made it one of the most preferred choices of people, when it is the matter of esthetic appeal in the design of the house. Since a longer period of time, the granite is one of the famous choices of the home owners. Preferring solid granite countertops is an expensive task and this is one of the leading reasons that why majority of people go for granite tile countertops. The best thing about them is that they are almost fashioned from similar stone as solid granite countertops and in addition to this they are Eco-friendly as well and thus do not affect the environment up to a higher extent. These tiles are one of the commonly used parts of the home and commonly one has to keep several things on them including food item and it is because of this reason, one has to go for Eco-friendly granite tile countertops as they keep everything placed on them safe.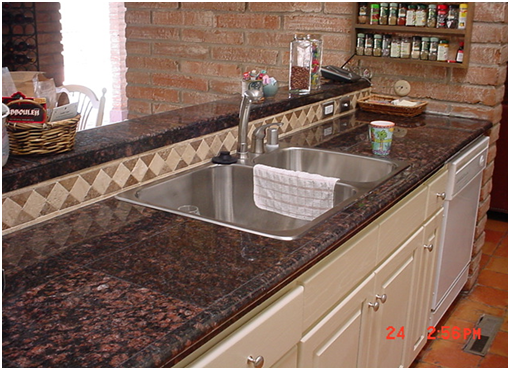 Basically, the use of granite tiles is not just limited up to a certain place only and majority of times they are used for flooring and shower installation as well. Because large number of color options is there so there is no need to worry about the desired color. One most important factor that makes them totally Eco-friendly is that they can be easily cleaned with water and thus there is no need to use chemicals that contribute in affecting the environment.
1. Joint granite tile countertops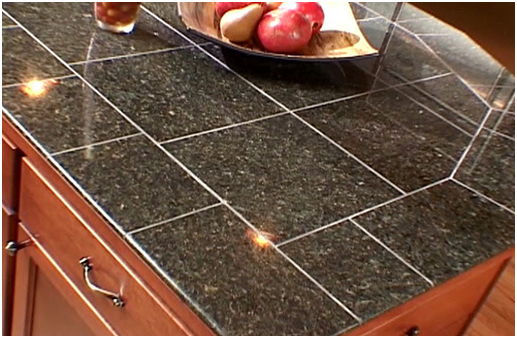 In this method, the slabs are cut down into equal square size parts and then they are installed on the place. Generally, people have to prefer this method because there is no other alternative, when the size of the place where granite tile countertops are to be installed does not match the size of the slabs. In this installation, additional cutting tools are required which may have more effect on the environment. This method has one primary advantage and that is it is suitable for any shaped place.
2. One-dimensional granite tile countertops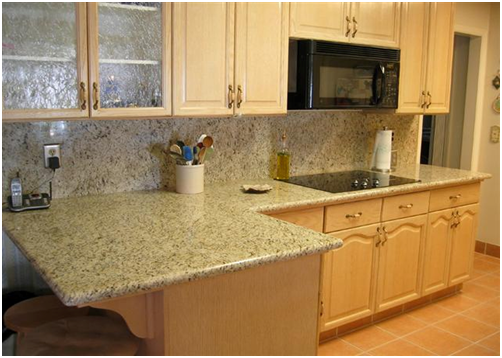 They are called so because they generally include the use of granite slabs without cutting. Generally, they are preferred by the people for their larger size kitchens. This option does not need much cutting of slabs and also gives more space to carry things. Their installation is somewhere difficult as heavy weight slabs have to be handled with care. Their contribution in affecting the environment is less because of no use of cutting up to a great extent and also their installation cost is less.
3. L-shaped granite tile countertops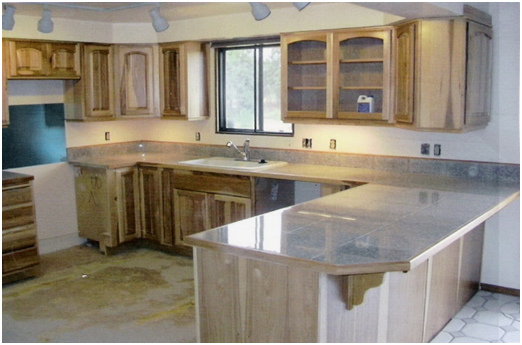 This method is generally called so because here granite tile countertops are installed on an L-shaped places. This option best suits the kitchen and the size of kitchen really does not matter. Moreover, this method suits better to places with double entry. The installation cost of this method is around 50 percent more than other simple methods and also corner joining is somewhere difficult.
4. U-shaped granite tile countertops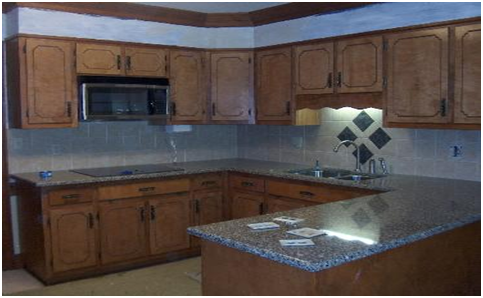 This is one of the traditional options and still preferred by lot of people for small size places. Basically, it is highly considered as best for the places with single entry and also it provides more space to carry things as well. On the other hand, it has one main disadvantage and that is its installation cost is almost double than other methods and joining the corners is difficult.
5. I-shaped granite tile countertops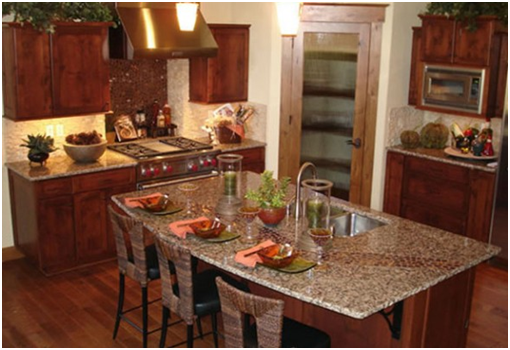 This method has one leading advantage and that is simple and low cost installation and this is mainly because of the reason that most of the time a slab is simply placed on the counter without cutting. Also it is free from the issue of corner joints. Generally, people who want to use counters as table prefer this method. It is highly considered as one of the simplest method. This is something that does not affect the environment under any circumstance.
6. Circle or O-shaped granite tile countertops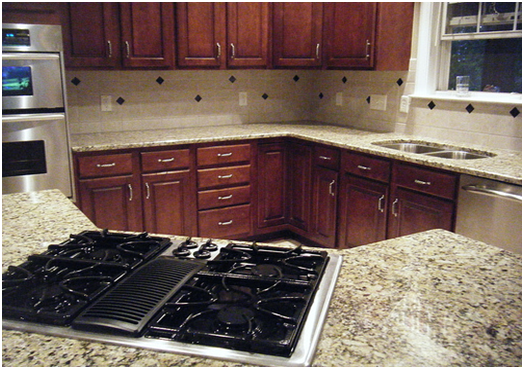 This method is not generally preferred by the people and this is mainly because of the reason that granite slabs are needed to cut in several ways so that they can be placed on counters in the desired shape. This includes use of more cutting tools and it affects the environment as well. Also it is having a very high installation cost than other methods. On the other hand, it is suitable for places with higher carrying capacity and with small size single entry.
Maintenance of granite tile counterparts is not a big task. Clean them after six months and use water to clean them. If there are stains, you can also use soap water to avoid them.