Five eco friendly fireplaces for green homes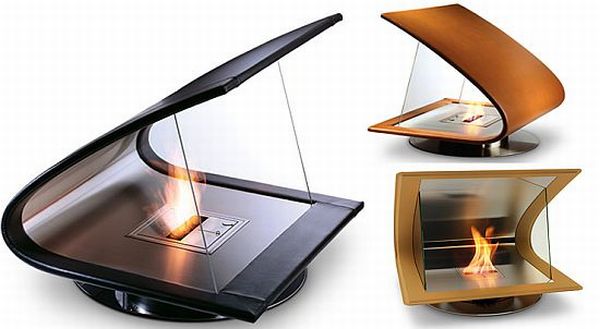 During the winter season, there is nothing like a fireplace if you want to add warmth, style and distinction to any space inside your home. For the eco conscious, the market nowadays is flooded with a range of trendy and designer eco friendly fireplaces that are sure to warm up those chilly winter nights without any negative environmental impact. Fireplaces that run on clean-burning alternative fuels are catching everyone's fancy these days, and the best thing is that there are a number of interesting designs to choose from, which will complement any contemporary décor. Hit the jump to see five of the most stunning eco fireplaces for the green homes.
EcoSmart Zeta fireplace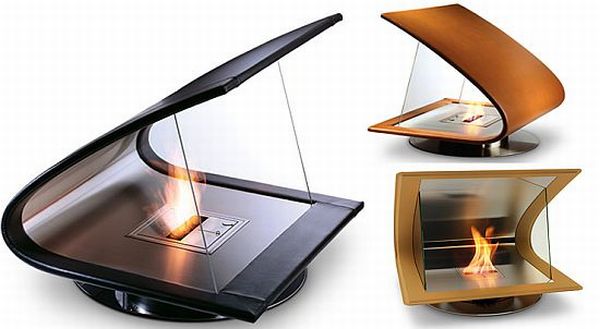 The EcoSmart Zeta fireplace may look like a modern laptop with many curves at first glance, but actually it's one of the coolest fireplaces available on the market. It is manufactured by Sydney-based design and architects firm, GeoForm and is designed by its director, John Dimopoulos. The fireplace is shaped like the Greek letter 'Zeta' from where it got the name. The eco friendly fireplace is designed using stainless steel, leather and wood. Glass screen that sits on either side of the fire protects the flame. It does not make use of conventional fuel; rather 'denatured ethanol', which is more commonly known as household ethanol, is incinerated instead. The burning of ethanol does not produce any greenhouse gas while rendering you the necessary warmth required keeping you cosy. You can choose from the different leather colors available for the fireplace to suit the layout of the room that you want the fireplace to be in.
Schultedesign's fire furniture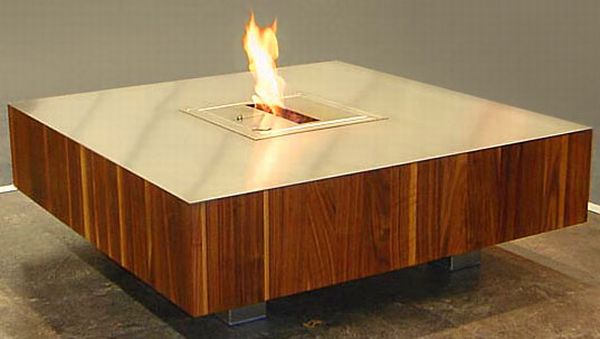 Schulte Design, a Germany based furniture company has brought up extraordinary furniture piece called as Fire Furniture. It is actually a fireplace that includes two coffee tables of different dimensions. An eco smart burner kit is installed at the center of the table. The burner has a sliding see through top cover and is fueled by a green and renewable bioethanol, which doesn't produce any smoke or soot on burning. The fireplace is constructed out of wood and stainless steel, giving your ambiance a classy appearance. These elegant furniture pieces were unveiled at the IMM Cologne furniture fair.
Fusion ventless designer fireplace from EcoSmart Fire

Designed for EcoSmart Fire by Marc Philipp Veenendaal, the Fusion conflates both style and practicality. The smart and modern design of this eco fireplace will make the contemporary ambiance of your home more attractive. This fireplace is rectangular piece of portable art that is fueled by denatured ethanol, which can be mentioned as a renewable and environmentally friendly energy source. The Fusion can be installed in personal dwellings or commercial premises like restaurants or bars. The Fusion is made with a stainless steel firebox covered with MDF timber that is coated with a fireproof two-pack solvent-borne top coat. Four fixing points are also included on the facade to adjust the wind screen installation. A toughened glass panel is also included at the rear of Fusion that can withstand high temperature variations. It comes in various colors to choose from.
Wall-mountable fireplaces from Arkaine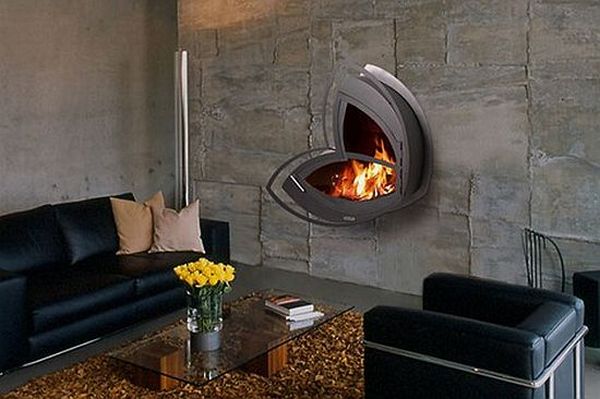 The French company Arkiane brings to you these unique and eye catching wall-mounted fireplaces, which not only keep you cosy throughout winters, but also add beauty to your home decor. The Icoi fireplace comes in the shape of a butterfly just about to fly and draws inspiration from an ancient Incas Goddess, which was symbolized by a butterfly taking off. Another elegant fireplace called the Yan-Li fireplace is designed in the shape of three interlaced flames depicting the fire's energetic style. These fireplaces can either be constructed within the wall or can be mounted on an already existing wall. Highly efficient dried wood is used as a clean fuel source. They are made up of steel and also include a glass door that can be opened or closed as per your heat requirement.
Chantico fire impulse fireplace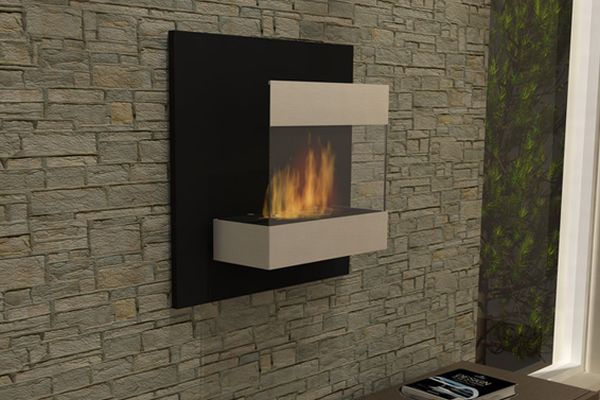 Chantico Impulse wall-mount bio fireplace is another ethanol powered fireplace. This modern solution of warming up your interiors can be suspended on any wall. The sleek design is ideal for even the smallest area. This fireplace makes use of powder-coated steel and tempered glass as its frame and also protects it from fire. This long lasting fireplace consists of two stainless steel, corrosion resistant, burners that operate with denatured ethyl alcohol fuel called Fanola fuel. The Fanola fuel is eco friendly as it burns with no smoke, smell or soot. Both of the burners together use 1 liter of this biofuel and ignite up to five hours. This elegant design does not require any chimney and so can be placed anywhere in your apartment. This eco fireplace is easy to install, safe to use and maintain and offers an ideal portability.