Eco-friendly Electric Kettle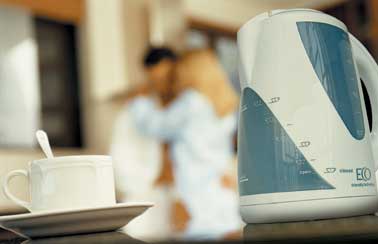 It is no stylish electric jug kettle, as it appears to be. The Eco Kettle has something more of a special feature that allows the user to fill the kettle to its maximum. It also allows you to boil one to eight cups according to their requirements.
To combat global warming, governments the world over are starting to devote some of their resources with programs that aim at increasing public awareness of the need to save energy and ensure that we use energy efficiently.
You can know yourself how important is this innovative and environment friendly kettle, when the Department of Environment, Food and Rural Affairs (DEFRA) makes the following statement:

"If everyone boiled only the water they needed to make a cup of tea instead of 'filling' the kettle every time, we could save enough electricity to run practically all the street lighting in the U.K."
Via: Eco Kettle