Eco Cars: Electric W3 concept – A three-wheeled urban vehicle with a sporty look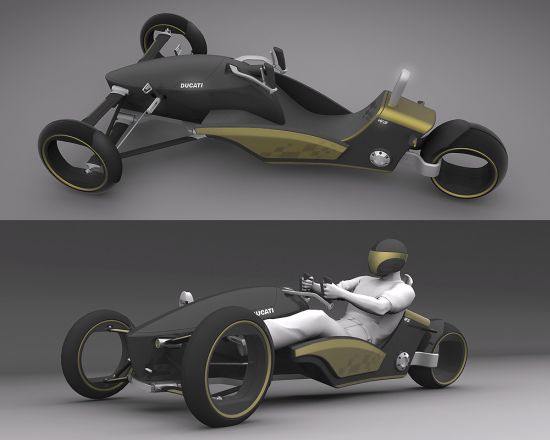 Eco Factor: A Sport urban vehicle powered by electricity.
Assuring a pollution free era, concept car designer D.I. Luciano Sánchez has come up with his latest creation, The W3, which is aimed toward the popular motorcycle brand Ducati. This leaning three-wheeler is a creation of a sport urban vehicle designed while keeping the demands of youngsters in mind. The vehicle is designed to provide the great riding experience of a motorcycle, but on three wheels.
This practical looking concept has a powerhouse that consists of three lithium-ion batteries, each of which is connected to a computer-controlled power inverter that converts DC power to AC power, which in turn feeds the electric motors behind the three rimless wheels. The backbone of the W3 is a large bar made from aluminum alloy, which supports the structural elements of the car without increasing its weight.
The parts that make up the body of the vehicle are designed to be manufactured from a composite material known as Terblend. Terblend is a composite of ABS and polyamide. It combines the excellent characteristics of each component and reduces the disadvantages of polyamide, such as contraction at high temperatures. With a lightweight body and an aluminum alloy chassis, the electric engine of the car would be able to propel it to speeds in excess of 100 km/h.
The Dark Side:
The designer here has failed to address the safety issues that could come with this vehicle. Moreover, a top speed of just 100 km/h would not be able to give a sporty feel to many youngsters, whom this concept is aimed at.
[Thanks: D.I. Luciano Sánchez]