Eco Architecture: R-House – Completely self-sufficient green design
Published on January 2nd, 2009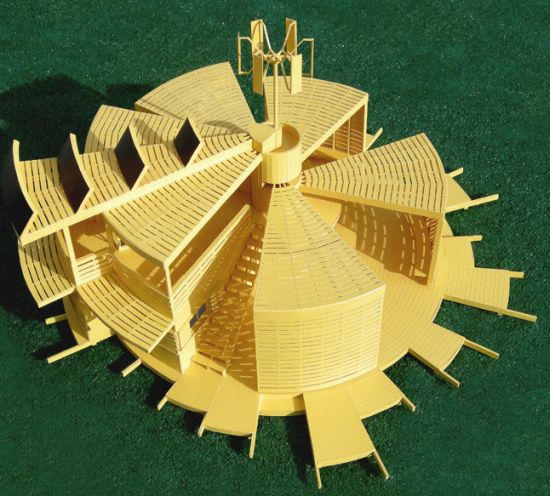 Eco Factor: A self-sufficient house design made up of sustainable non-toxic wood and installed with photovoltaic solar panels and wind turbines.
Michael Jantzen , designer of the M-house sold on recently to a private art collector in Korea,is now planning the same for his new R-house design. Like his previous design, Michael has shown every possible way to greener living. Pre-fabricated in sections and assembled, it will be featured as a small vacation retreat. The whole structure brought into existence from Accoya, a sustainably grown tree, ensures 50 years of life in a completely non-toxic way. Photovoltaic solar cells and vertical axis wind turbines are installed to fulfill the entire energy requirements. There is arrangement of a rain collecting system at the center of house, and a composting toilet or an electrical incinerating toilet provides a self-contained facility. The energy requirement for water heating can be ensured by either solar heating or by natural gases like propane and hydrogen. With a backup propane or hydrogen gas heater, the house will be solar space heated, while cooling will depend on natural ventilation.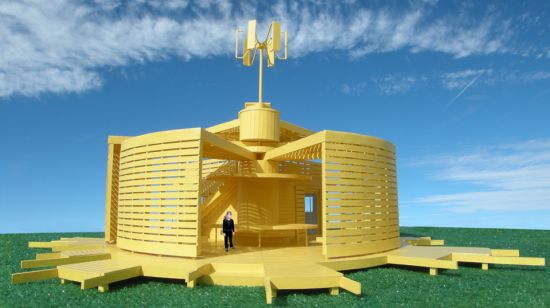 A large circular deck area located around the perimeter of the design with four large movable screens makes the structure customizable into varied configurations. Security shutters fitted into the structure will ensure security of all windows and one sliding glass door when not in use. The perimeter of the structure is built in such a way that additional segments could be added in order to increase the area if needed. A visual treat of design, provided through the gallery below, will give you a better glance of the structure.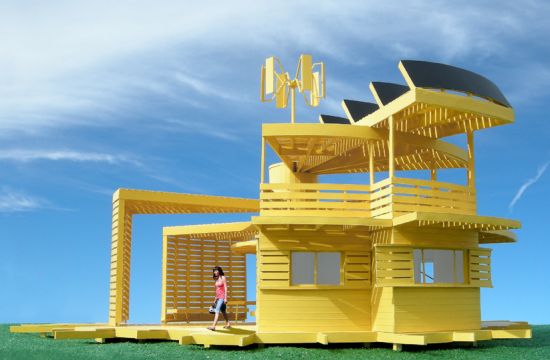 The Dark Side: The design incorporates every possible alternative source of energy and other measures that make it almost completely self-sufficient. However, how much energy photovoltaic solar cells and wind turbines can provide is not defined. Further, the design is suitable only in temperate climate where heating will be less of an issue.

Thanks Michael Jantzen
Leave a Reply