Eco Architecture: 'Number 1' tower goes high on sustainability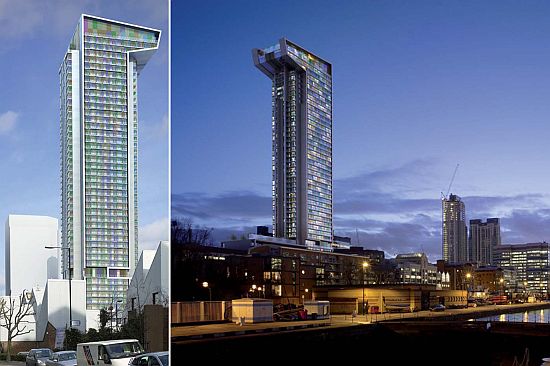 Eco Factor: Mixed-use skyscraper hosts multiple sustainability features.
Designed by Angel House Developments, this tower gets its nickname "Number 1" due to the distinctive shape created by the cantilevered head. The tower has been proposed for a site at the junction of Marsh Wall and Limeharbour in London. The tower would be the first ever skyscraper to branch off to the east of the Isle of Dogs.
The tower will be composed of 280 luxury and affordable flats, a rooftop swimming pool, fitness center, garden, restaurants, retail facilities and a pocket square for public access. The 42-story-plus ground tower will have an 11 story podium that will contain 10 levels of affordable apartments. The tower will be made sustainable by incorporating several ecofriendly features. The design features landscaped gardens, trees and a vegetable garden on the roof. Though this will no way be near to any proposed vertical farm skyscrapers, the tower will make sure that it gets as green as it can.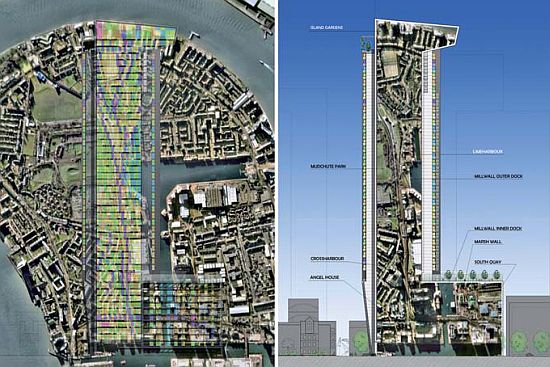 All the apartments in the tower will have the possibility to be naturally ventilated. The designers have claimed that the tower will reduce carbon emissions by 11%, and a combined heat and power plant will further reduce it by 12%. Additional accessories like biomass boilers will reduce carbon emissions by 14%.
The Dark Side:
Rooftop swimming pools will take away all that the tower has gained in carbon emissions. Pumping water hundreds of meters above the ground would require a good enough amount of electricity, and with no renewable electricity being generated by the tower, we worry what one would have to pay for a swim on the rooftop.