Earthrace Speedboat- The coolest green machine!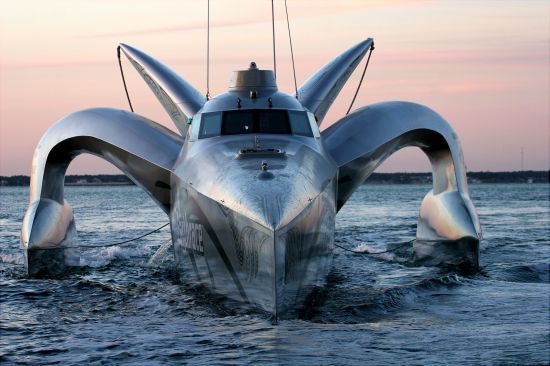 'Racing round the world for a better planet'; that's the slogan they are using for Earthrace. It's a sleek, silver, 78-foot speedboat painted with a tattoo design. Earthrace is not your standard petrol-guzzling powerboat. Its jaw-dropping looks have already earned it the unofficial mantle of the world's coolest boat, but it is also one of the greens. Fuelled by bio-diesel and made with environmentally friendly products, it has on-board recycling and all its carbon emissions are offset. But forget images of sandal-wearing sailors and lentil soup. This boat's performance in the water is what turns the petrol heads on. With its 13,000-litre fuel tanks it can travel halfway round the world at speeds of up to 40 knots. The boat cuts through the water rather than over the waves. Video after the jump.

Check out this new offer-It is open to anyone. Just turn up at any of its ports of call, pay £3.50 and you'll get a full tour of the boat with one of the crew. For less than £30 you get a rip-roaring journey out at sea or, for the ultimate adventure, you can fork out £5,000 to join the four-man crew during one of the 12 legs of the actual race. . Thanks for the images Earthrace.
Via: Telegraph