E-Miglia electric vehicle rally commences August 2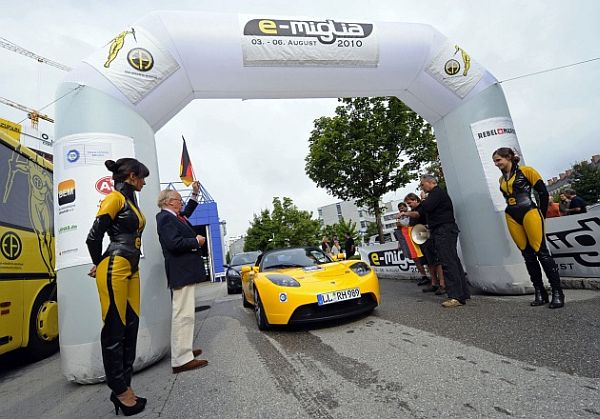 To prove that e-vehicles are not only clean but can bring an adrenalin rush to you, E-Miglia, as it has been christened, would set out on its track on August 2nd from Munich and reach St. Moritz in Swtizerland – a distance of 800 kilometers. The everyday vehicles will be tested on a zero-emission scale of reference.
But, that would not be enough to win a shield/cup. The vehicles would have to be very maneuverable. They would have to beat others too in terms of speed and ease of use. Tesla Roadster would be there to snatch it away for the second time in a row. And, there would be eRUF Roadste, Coupe, Mitsubishi i-MiEV, Citroen C-Zero, Smart For two ED, Mini E and Peugeot iON to give a tough challenge.
Last year, team Energiebau in a Tesla Roadster Sport stunned other contenders to win the E-Miglia rally and claimed the prize money of €10,000 ($14,168 U.S). Tim Ruhoff along with his teammate Steven Hoffmann won two of three special stages without much of an ado. Team JuWI also tested its Roadster and claimed second place. Another team Move About Bosch in Think City stood third. This time around, some models can make life tougher for Tesla. They can show some wonder when they compress the usual battery recharge time from 7 hours to just 30 minutes.
Some of them could produce awe with the information that the energy cost for 100 km in these vehicles is just €4. Did you blink an eye at the thought of an e-mobile before? Think again as you come across the ability to accelerate from 0 to 100 kmph in just 3.7 seconds in some of them!
Via: Autoblog Green