DIY 'Floating Duck Palace' has a solar powered light
Kids are always fascinated by nature and how animals and wildlife dwell parallel to human existence. Their concern about the surroundings is probably much more than ours and they share an innocent bond with animals. Their learning can be made more interactive, if we encourage them to participate in activities that will bring them close to nature. In one such incidence, a father and son duo got together to construct a floating duck palace. This amazing palace not only features all amenities required by ducks, but also ensures that it does so in a green way.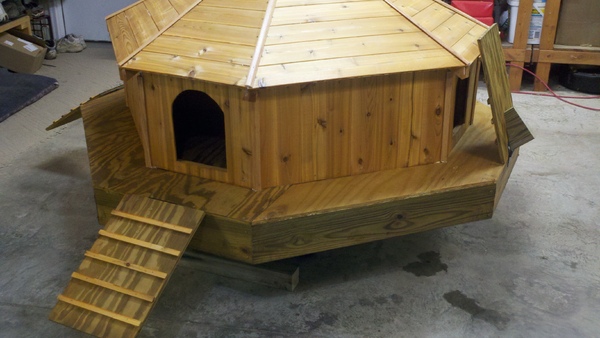 The pictures of the palace indeed prove that the ducks will surely relish their stay and also it forms a fabulous sight, floating beautifully over the surface of water.
The base of the palace is made out of treated wood. The sides and top is made from cedar, which solves two purposes simultaneously. One, cedar does not rot easily and second, the structure remains lightweight. For facilitating a good float, the base has been installed with 2 by 2 inches foam.
The palace has room dividers and a removable top, which allows you to make 2 to 4 rooms, as per your wish. The outside features retractable walking planks so that the ducklings could safely get inside their palace. Another green feature of the duck dwelling is that a solar powered light has been installed at the top to maintain the structures visibility at night.
Via: Backyardchickens