Overtreders W and Bureau SLA of The Netherlands's capital of Amsterdam have come together to design the Noorderparkbar, a gathering space and coffee bar for residents of north Amsterdam. What sets it apart from the other hang-outs dotting the region is its eco friendly construction. Made using reclaimed wood, salvaged materials and second hand products, the bar sits on a park surrounded by nature.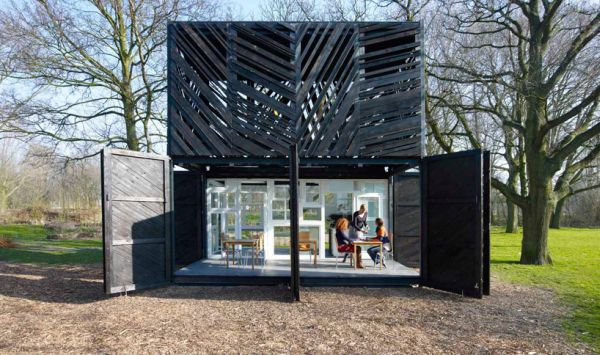 Funding for the project was footed by the two design firms which sourced a large percentage of the building materials from a Dutch market website. Around 100 individual traders sold their products to the duo for the construction of Noorderparkbar with the wood and shutters sourced from a bankrupted formwork plant and a temporary hospital.
There's no word on just how much the project cost but considering most of the materials were second hand, it would be safe to assume that the two firms managed to considerably cut down costs. The materials that were purchased include 55 liters of paint, two toilets and green and white ceramic tiles.
The structure itself is interestingly built and features wooden doors and a façade that have the wooden planks placed at random angles. This gives the bar an almost urban chic touch which is heightened by the charred surface using a Japanese technique called shou sugi ban.
Inside, the ceramic tiles make their appearance on the counters upon which sit coffee-making equipment and other necessities. The white interior perfectly contrasts the charred wood surface to create a look that is stark yet welcoming and very refreshing.
The toilets, meanwhile, sport colorful green tiles on the walls and seem to have been consciously chosen to match the green surroundings. At night, the roof housing the lights shines with the beams broken up into pretty rays owing to the angled placement of the wooden planks.
Via: Designboom