Designer develops personal parasol to keep his car cool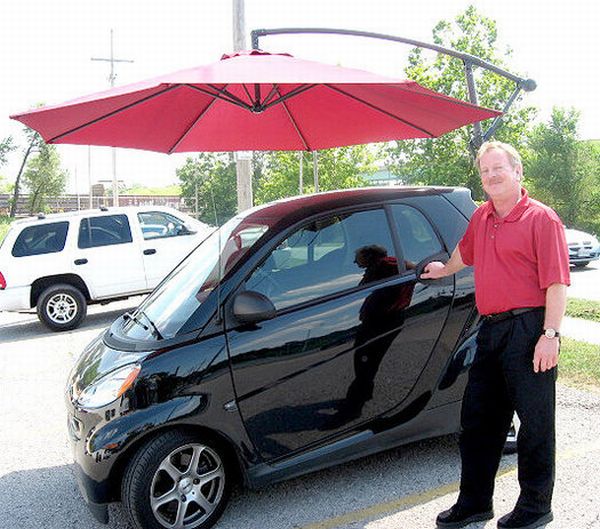 Most of us prefer not to park our car under the sun because the car gets literally baked from inside. Given a chance, all of us will want to park our vehicle in a parking lot, which has shade, but it is not possible all the time. An industrial designer, Michael Staley, has come out with a solution to this problem and has designed his personal parasol to beat the heat. Staley used his designing skills to the optimum to make a parasol, which can be fixed on his car, where a shady parking space is not available.
Staley must have bore the brunt of humid sun and that is why he has developed his own easy to carry covered parking space. Staley unveiled his new invention in the parking lot of Insight Innovation Group. He used a red patio umbrella to develop his own shady space, which isn't fixed on the vehicle, but can be put up according to need. The idea to develop this covered parking space hit Staley last year when he procured a patio umbrella from eBay. He, however, did not put his idea to use until this summer when the heat started troubling him.
Staley's invention is definitely novel as it not only helps keep the car cool during hot summers, but also ensures that the need for air conditioning is reduced. With a reduction in the need for air conditioning, this design also promises a reduction in fuel consumption.
Via: Kansas City