Bulgarian designer and architect, Matija Djedovic, has conceptualized an innovatively designed tennis complex to be situated in Varna's Ostrovo in Bulagaria. Called Tennis Complex Varna, the project hopes to become a landmark, known for its inflatable façade made of ETFE. The design is merely a concept at this stage but if it ever receives backing, then residents of Varna can lay claim to having a unique tennis center.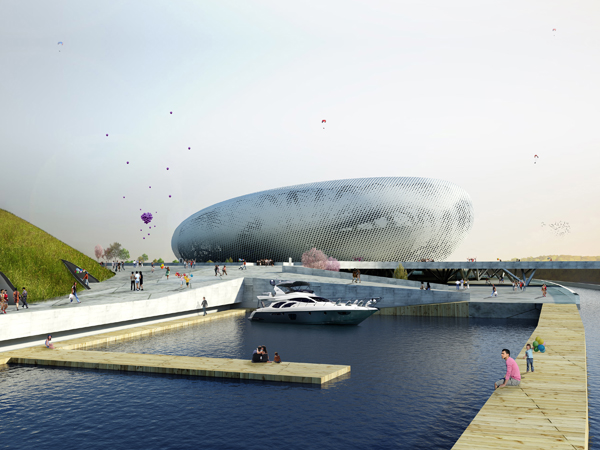 The project seeks to create a visually appealing landscape that cannot go unnoticed. As visitors approach, they will be struck by the modern central stadium on one side and a dug-out Stadium 1 on the other. The complex consists of five zones of auxiliary fields, the central stadium, Stadium 1, a central public space located between the two stadia and a parking lot underground.
The tennis center will be able to accommodate 14,000 spectators with parking space for 1,000 vehicles. What will immediately catch the attention of visitors is the central stadium with its inflatable ETFE structure that lends a unique component to the skyline. The structure has indoor and outdoor spaces with heated and unheated areas. The unheated spaces need no filling while the heated areas will be treated with ETFE foil and the heated dark spaces that don't require light will contain PVC membranes.
To generate electricity, the complex will make use of piezoelectric plates that will harness energy from the inflow of visitors. This means that it will have a constant flow of renewable energy and will be independent from grid systems that provide fossil fuel-based electricity.
The dug-out Stadium 1 also seeks to minimize impact on the surroundings. As such, Djedovic has planned that it should be dug out instead of built on which will also pose no damage to the skyline. It's hoped that the entire concept will motivate others to come up with similar designs that seek to decrease carbon footprint.
Via: Evolo